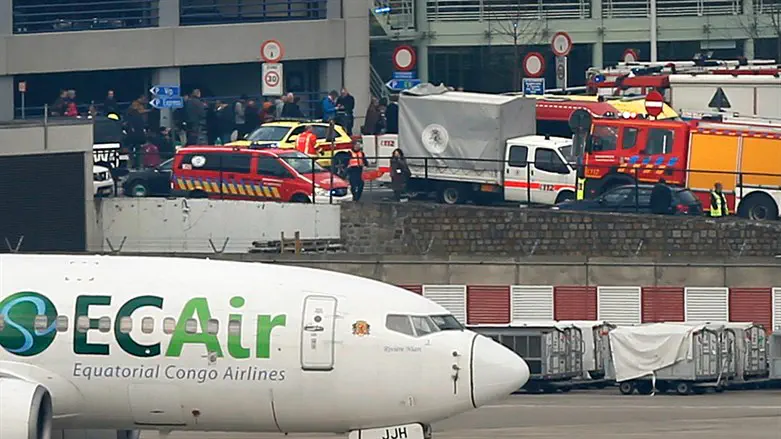 Scene of Brussels bombings
Reuters
A Belgian court sentenced eight defendants in the country's largest ever trial involving the 2016 Islamist bombings in Brussels that killed 32 people, Reuters reported, citing the Belga news agency.
Six men, who were found guilty of murder and attempted murder for their part in the twin bombings at Brussels airport and third bomb on the city's metro on March 22, 2016, were handed sentences ranging from 20 years to life in jail.
The sentences were handed down on Friday. In July, the court convicted the defendants of murder and attempted murder in a terrorist context and participating in the activities of a terrorism organization. Two men were acquitted.
Among those convicted was Salah Abdeslam, the main suspect in the trial over the Paris attacks that killed 130 people. On the run after fleeing the French capital, he was seized in Brussels four days before the Belgian attacks.
The court considered that the French sentence of life in prison for his role in the 2015 Paris attack and his 20-year prison sentence over a Brussels shooting was enough and he did not receive a further sentence.
Others found guilty included Mohamed Abrini, who went to Brussels Airport with two suicide bombers but fled without detonating his suitcase of explosives, and Swedish Osama Krayem, accused of planning to be a second bomber on Brussels' metro.
Reports following the 2016 bombing indicated that Belgium received advanced warnings of the terrorist attacks but did not act on those warnings.
Israeli TV reported at the time that Israel had provided Belgium with concrete information on security breaches at the Zaventem Airport, where the first of two attacks on the Belgian capital took place, and claimed that "there are serious security deficiencies at the airport in Brussels".