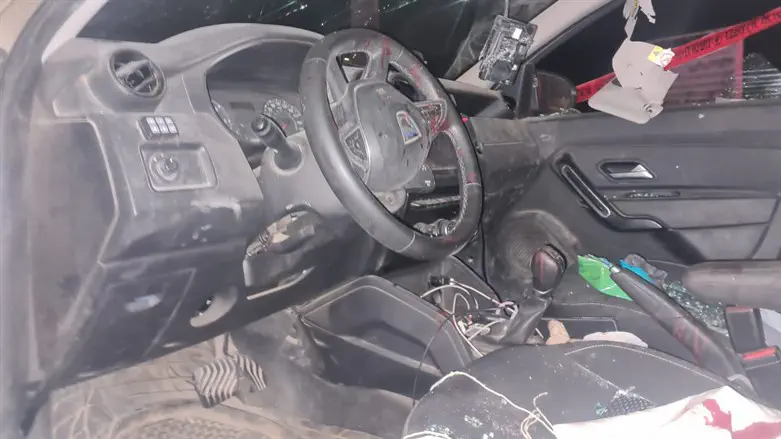 The car that was hit in the attack
Nadav Goldstein/ TPS
Beilinson Hospital in Petach Tikva updated on Wednesday that Meir David Kahane, one of the two people who were wounded in the shooting attack in Huwara on Tuesday, was treated overnight and was released from the hospital after his condition improved.
Kahane is the son of Rabbi Binyamin and Talia Kahane, who were murdered 23 years ago in a shooting attack near Ofra. Rabbi Binyamin Kahane was the son of Rabbi Meir Kahane, the founder of the Kach party and the Jewish Defense League, who was murdered by a terrorist in New York in 1990.
The second individual who was wounded in the attack, Achiad Libman, who was moderately wounded, remains hospitalized under close medical supervision.
The victim's father, the head of the Pri Haaretz yeshiva in Rehelim Rabbi Yehuda Libman, recounted the miracle that happened to his son. "A great miracle happened to us. We thank G-d for his kindness," he wrote and recounted: "Our 25-year-old son was traveling with a friend to an Ishai Ribo concert in Har Bracha. On their way, while passing through Huwara, they were ambushed by despicable terrorists. Dozens of bullets were shot at the car, and miraculously, the two were relatively slightly harmed by glass shards.
This situation in which a corridor of hundreds of meters becomes a bloody range of sitting ducks for the area's residents and soldiers is unbearable and can be accepted."
The wounded victim's father added: "We demand that all ranks of the defense establishment launch a widespread military operation in all of Judea and Samaria, a total blockade of the cities, to subdue terror and collect arms."