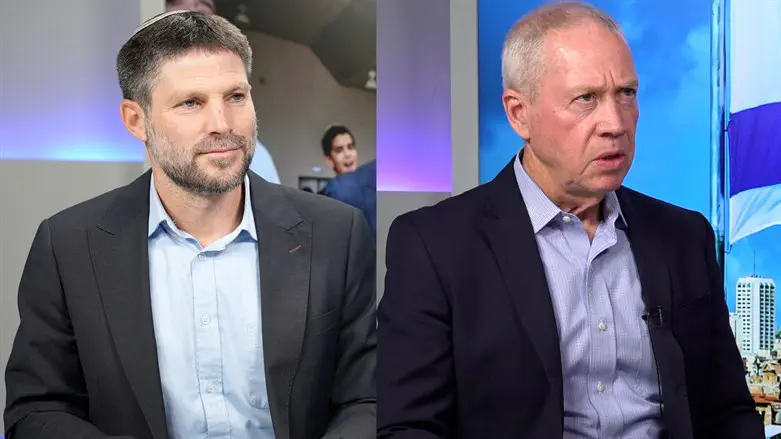 Bezalel Smotrich (L) and Yoav Gallant (R)
Arutz Sheva
Sources in the defense system have claimed that the lack of enforcement of the law in Judea and Samaria on all issues related to the illegal settlements increases the level of violence and the clashes between Jews and Palestinian Authority Arabs, further undermining the security situation on the ground, Maariv reported.
Other sources in the system have noted that the division of authority on the ground, between Finance Minister and Minister in the Defense Ministry Bezalel Smotrich (Religious Zionism) and Defense Minister Yoav Gallant (Likud) creates a very complex issue which is influencing the security situation.
The sources, thus far, are avoiding taking a position regarding the gunshots fired during the lynch near the Arab village of Burqa, preferring to wait for the findings of the police investigation.
At the same time, the sources said that. "There was no justified reason for a group of settlers to come with their flock of sheep to the edge of Burqa and to enter private Palestinian lands, at a distance of about a kilometer from Oz Tzion."
Those close to Gallant said on Sunday that he has not responded to the Friday afternoon incident due to the ongoing police investigation, which takes place parallel to additional operational investigations.