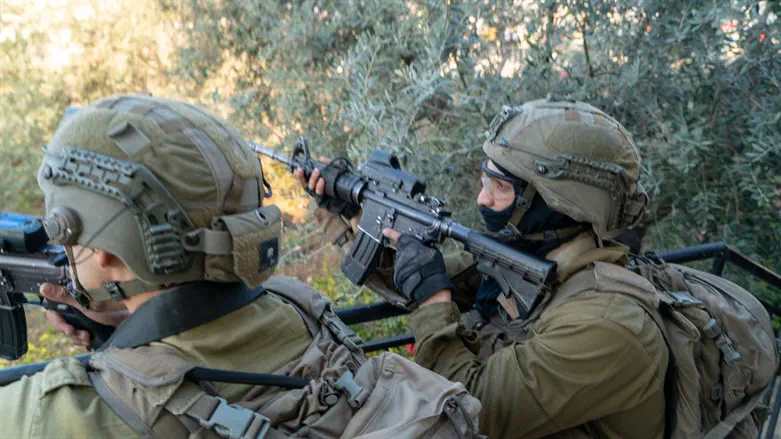 IDF soldiers, Archive
IDF Spokesperson
The Israeli defense establishment is on high alert amid mutual declarations by Iran and Israel concerning the possibility of a military confrontation. According to a report by Israel Hayom, senior figures in the IDF this week discussed the possibility of a security escalation in closed talks.
Several weeks ago, Iran raised its uranium enrichment level to 84% but later claimed it was an error and mended it back to 63%. Amid those fears, IDF generals made several threatening statements in the past few days aimed at the Islamic Republic. Due to the hike of the enrichment level, Prime Minister Netanyahu, Defense Minister Yoav Gallant, IDF Chief of Staff Aviv Kochavi, IDF Military Intelligence Directorate Chief Maj. Gen. Aharon Haliva and National Security Council Chief Tzachi Hanegbi issued statements clarifying that Israel is prepared to use military force if the need arises.
Iran did not refrain from responding to Israel's threats. In an interview with Al Jazira, a senior Iranian official stated: "Harm to our nuclear facilities would mean a full war which Israel would bear the responsibility for. The threats prove that Israel is the basis for the region's lack of security and stability. The world must understand that we will have no red lines in our response. Israel's statements are officially terror, which is ignored by the international community."
In the meantime, the Security Cabinet is scheduled to meet next week to discuss the northern front. According to Israel Hayom, the defense establishment is preparing for a multi-front confrontation, assuming Iran would try to challenge Israel on all fronts.
While the report states that these developments point to an increased chance for war, it also cites a senior figure who claims that the situation has not changed and that the press coverage of this week's Herzliya conference caused it to seem as if the situation had worsened.