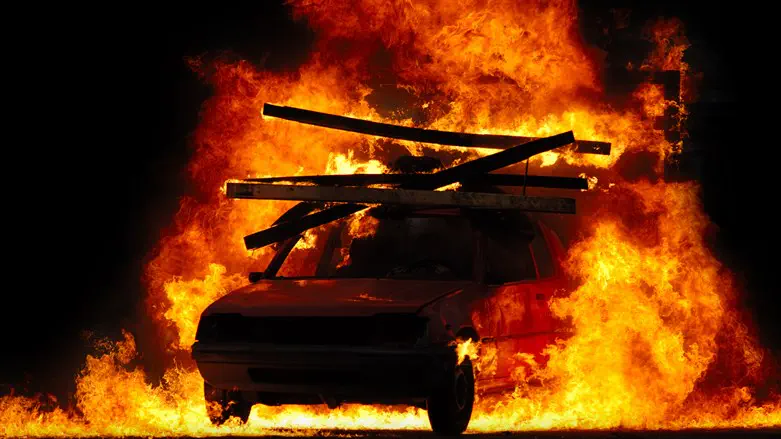 Car bombing (illustration)
iStock
A car bombing rocked the Syrian capital of Damascus on Sunday evening, AFP reported, citing state media.
No deaths were reported as a result of the bombing. No one claimed responsibility for the attack.
"An explosive device detonated in a civilian car, setting it alight without causing casualties," said state news agency SANA, quoting a police source.
The Syrian interior ministry said "two people were lightly injured" in the blast that targeted a pick-up truck, adding that "investigations are ongoing".
It was not immediately clear who was responsible for the attack, or who the target was.
The attack took place in an area home to United Nations headquarters, several embassies and restaurants, according to AFP.
The incident occurred hours after IDF helicopters and fighter jets were scrambled in response to unidentified aircraft which crossed into Israeli airspace from Syria.
The aircraft was shot down in an open area, the IDF stated, adding that the aircraft in question did not pose a threat at any stage. According to protocol, an alarm was not activated.
While the explosions in Damascus were initially thought to be related to the downing of the UAV over Israeli airspace, it quickly became clear that there was no relation between the two.
Sunday's attack followed increased air strikes on Syria which have been attributed to Israel. Overnight Saturday, Syrian media reported that Israel carried out air strikes in the Homs region in the west of the country.
According to the reports, the country's anti-aircraft system was activated following the attack. Military officials in Syria said that five Syrian military personnel were injured and that some of the missiles were intercepted.
This was the third time in the last four days that Syria has accused Israel of air strikes.
On Thursday night, Syrian media reported that explosions were heard in the vicinity of Damascus and that the Syrian air defense systems were activated following the air strike. The reports said most of the missiles were intercepted.
Syrian opposition sources reported that the attack focused on the western part of Damascus. The Syrian Observatory for Human Rights reported that the alleged Israeli attack targeted military sites of the Assad regime and the pro-Iranian militias in the southwestern part of the capital. It was also reported that the sites that were attacked contained weapons.
On Wednesday night, media in Syria reported that explosions were heard in the vicinity of Damascus.
The reports indicated that the explosions were a result of an Israeli air strike. It was also reported that the country's air defense systems worked to repel the "Israeli aggression".
A radio station affiliated with the regime of President Bashar Al-Assad reported that the air defense systems were activated against "hostile targets".