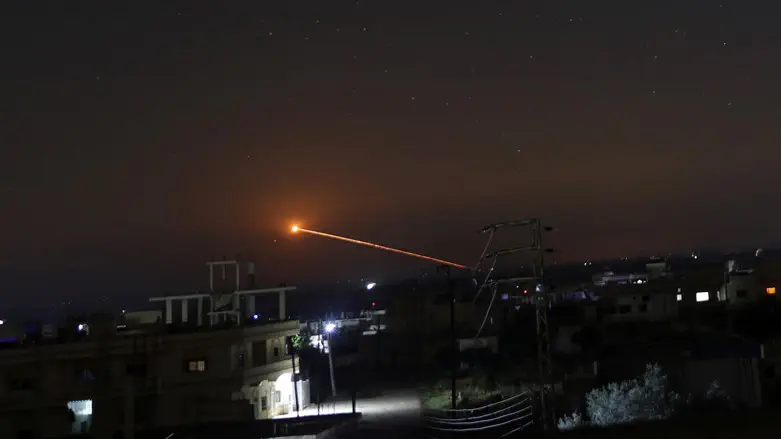 Syria air strike (archive)
Reuters
Syrian media reported overnight Saturday that Israel carried out air strikes in the Homs region in the west of the country.
Two Western intelligence sources quoted by Reuters said the rocket strikes targeted the T4 air base located west of the ancient city of Palmyra, and al Dabaa airport near al Qusayr city near the Lebanese border where the Hezbollah terrorist group is entrenched.
Iranian military personnel alongside fighters from Lebanon's Hezbollah are stationed at both airports and there is a strong presence of pro-Iranian militias in that area of Homs province, the sources said.
According to Syrian reports, the country's anti-aircraft system was activated following the attack. Military officials in Syria said that five Syrian military personnel were injured and that some of the missiles were intercepted.
A Syrian military official issued an unusual threat to Israel following the attack in Homs and said, "The repeated attacks testify to Israel's weakness and the inability of the traitorous army to confront and descend on the territory. This will not pass in silence."
This is the third time in the last four days that Syria has accused Israel of air strikes.
On Thursday night, Syrian media reported that explosions were heard in the vicinity of Damascus and that the Syrian air defense systems were activated following the air strike. The reports said most of the missiles were intercepted.
Syrian opposition sources reported that the attack focused on the western part of Damascus. The Syrian Observatory for Human Rights reported that the alleged Israeli attack targeted military sites of the Assad regime and the pro-Iranian militias in the southwestern part of the capital. It was also reported that the sites that were attacked contained weapons.
On Wednesday night, media in Syria reported that explosions were heard in the vicinity of Damascus.
The reports indicated that the explosions were a result of an Israeli air strike. It was also reported that the country's air defense systems worked to repel the "Israeli aggression".
A radio station affiliated with the regime of President Bashar Al-Assad reported that the air defense systems were activated against "hostile targets".