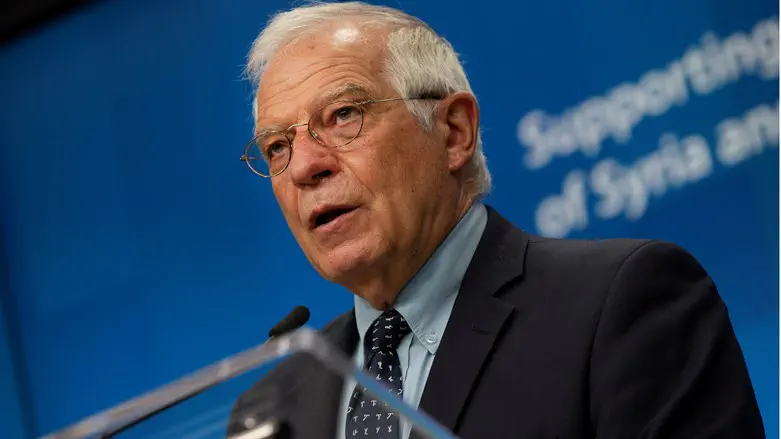 Josep Borrell
Reuters
The European Union on Tuesday condemned the recent string of Arab terror attacks against Israeli Jews, while also castigating rioting by Jews in Arab villages in Samaria.
In a statement released by the European External Action Service (EEAS) Tuesday morning, the EU called on Israel and the Palestinian Authority to reduce tensions and ensure the protection of civilians.
"The European Union is highly concerned by the continuously spiralling violence in the occupied Palestinian territory. It condemns the terror attack in the West Bank on Sunday, in which two Israelis lost their lives, and yet another attack on Monday claiming the life of one more Israeli."
Two brothers, Hillel Yaniv 21, and 19-year-old Yagel Yaniv, were shot and killed after a terrorist forced their car to stop while they drove on Route 60 through the village of Huwara in Samaria Sunday afternoon.
On Monday, 27-year-old American-born Elan Ganelese was shot and killed in a terrorist attack near the Dead Sea.
"The EU condemns the outbreak of settlers violence, which resulted in the killing of one Palestinian, injuring of several hundreds of Palestinians and burning of houses and shops, causing the unacceptable destruction of Palestinian property," the EEAS said, referencing clashes between Arabs and Jews at the scene of Sunday's attack in Huwara.
Some 50 cars and a number of buildings were torched Sunday evening. Some 380 local Arabs were reportedly injured, with one man shot to death in a neighboring village, according to Palestinian Authority health officials.
European Commission Vice-President and EU foreign affairs chief Josep Borrell contacted Israeli and Palestinian Authority officials Sunday night, "to convey the message that violence and terror must stop, that all civilians must be protected and that immediate measures of de-escalation are necessary."
"All parties need to take immediate steps to end this deadly cycle of violence, prevent further loss of life, ensure accountability and bring the perpetrators to justice."
The EU lauded Sunday's emergency summit held in Aqaba, Jordan which secured commitments from the PA and Israel to avoid unilateral actions for the next three to six months, in the hopes of deescalating regional tensions.
"The EU commends the role of Jordan, Egypt and the US in facilitating the talks and calls on both parties to implement the commitments made."