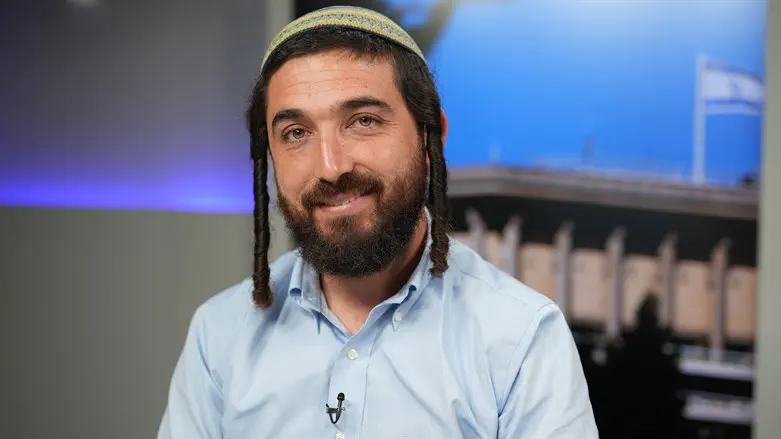 Tzvi Sukkot
Israel National News
Tzvi Sukkot, a right-wing activist from the Samaria town of Yitzhar, will be sworn into the Knesset in two days and will serve as a member of the Knesset for the Religious Zionism party under the so-called "Norwegian Law", which permits ministers to resign from the Knesset to allow the next person on their party's slate to enter the Knesset after Finance Minister Bezalel Smotrich resigned from the Knesset.
"This is a holiday for me; I am excited to accept the privilege of serving in the Knesset in another 48 hours," Sukkot stated after being notified of his appointment.
"I thank my friend Bezalel Smotrich for his trust and partnership and for accepting me to the amazing Religious Zionism team.
I hope to succeed in doing a lot of good in the Knesset for the people of Israel in the realms of security, settlement, governance, the economy, and all of the important matters for which I was elected in the primaries. Thank you to everyone, and G-d willing, I'll be in the Knesset in another 48 hours," he concluded.
Earlier Sunday, Finance Minister Bezalel Smotrich submitted his resignation from the Knesset and stated: "The Knesset is very dear to my heart, and I promise the speaker and the citizens of Israel that I will continue to respect the Knesset and its members and to come to the Knesset at every given opportunity. I am resigning from the Knesset and will continue to dedicate my days and nights to work for the citizens of Israel in the Finance Ministry and as a minister in the Defense Ministry.
I wish Tzvi Succot, who will enter the Knesset as an MK for Religious Zionism, much success. I do not doubt that Tzvi will do a lot of good for the nation and state of Israel together with the members of the best party in the Knesset."