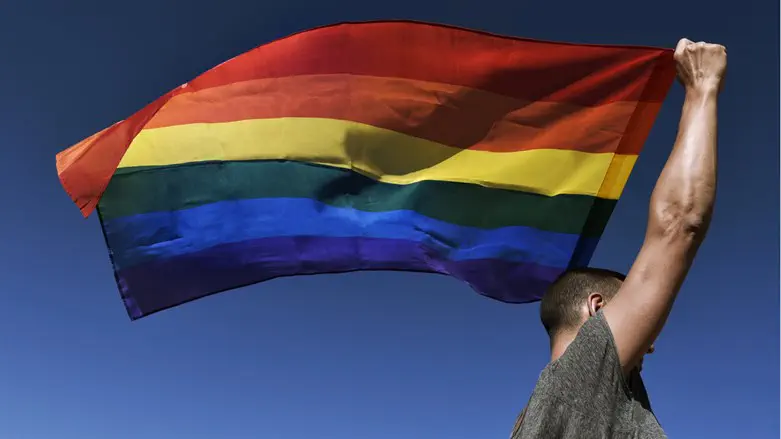 LGBT flag
iStock
The Arab-Israeli Bnei Sakhnin soccer team from Israel's premier league has come under criticism from Israeli media after all but two players refused to appear on the field with a shirt featuring the LGBT flag yesterday (Saturday) evening.
According to a report on the Sport 5 Israel TV channel, a ceremony was held by the "Iggy" association with the purpose of expressing solidarity with youths from the gay community in Israel prior to the start of Saturday night's match between the Arab-Israeli Bnei Sakhnin soccer team and Maccabi Tel Aviv.
All of Bnei Sakhnin's players, with the exception of Gad Amos and Guy Melamed, refused to wear a special shirt prepared for the ceremony featuring a heart with rainbow colors, representing the gay community.
Team management sent a letter to the league manager before the game, in which it emphasized its commitment "to Arab society and its values."
The letter states: "Based on values that advocate the right to shape society's identity, life, respect for the individual, and respect for the sanctity of freedom, the management of the Bnei Sakhnin Sports Club will allow each player to determine for himself the manner of his participation in the support ceremony for the Iggy association which will be held tonight.
"Club management advocates the value of respect for the other, while at the same time providing full respect and sensitivity to Arab society and its values. The Bnei Sakhnin club, management, and players believe that all stakeholders will show understanding towards the club's decision on this issue," it adds.
The league director responded to the above letter: "The league director regrets that there are those who chose not to take part in a social activity that aims to support a minority in Israeli society. The league director will continue to promote messages of understanding and inclusion in the league's activities in the future."