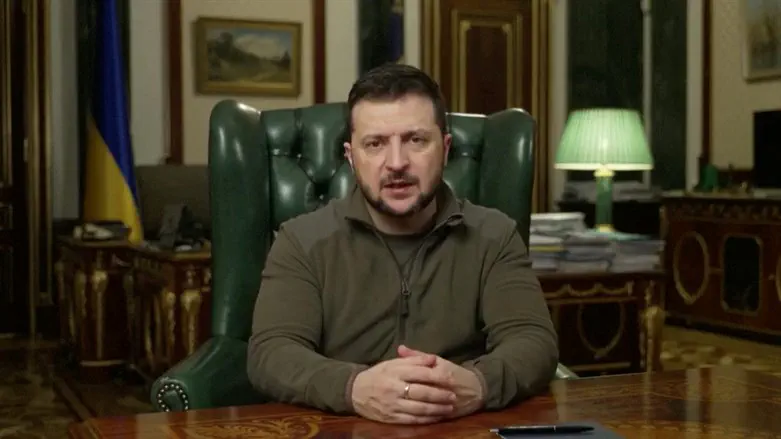 Volodymyr Zelensky
Ukrainian Presidential Press Service/via Reuters TV/Handout via REUTERS
Israel is working on scheduling a meeting between Foreign Minister Eli Cohen and Ukrainian President Volodymyr Zelensky, according to a report by Channel 13 News.
A Ukrainian source verified the request to Channel 13 News, adding that a decision has yet to be made on the matter and that the Ukrainians may only answer the request a few hours before the meeting. If the meeting indeed takes place, it will most probably occur in the near future in Ukraine. Since the onset of the war, no Israeli of this rank has met with the Ukrainian president.
Last month, Ukrainian Presidential Advisor Mykhailo Podolyak told i24NEWS that Prime Minister Benjamin Netanyahu "can be an effective mediator" between the warring parties of Russia and Ukraine.
"I have no doubt that Netanyahu can be an effective mediator since he understands precisely what modern wars are and what is the essence of mediation under these conditions," Podolyak said.
He claimed, however, that "Russia does not want there to be a real negotiation," and that the invading country only wants Kyiv to surrender "under the name of 'negotiations.'"
"Russia only wants to negotiate the keep the status quo, and most recently, to agree on a ceasefire to upgrade its army, which turned out to not really know how to fight," Podolyak told i24NEWS, saying Netanyahu could be effective in mediating when the time is right for peace talks.