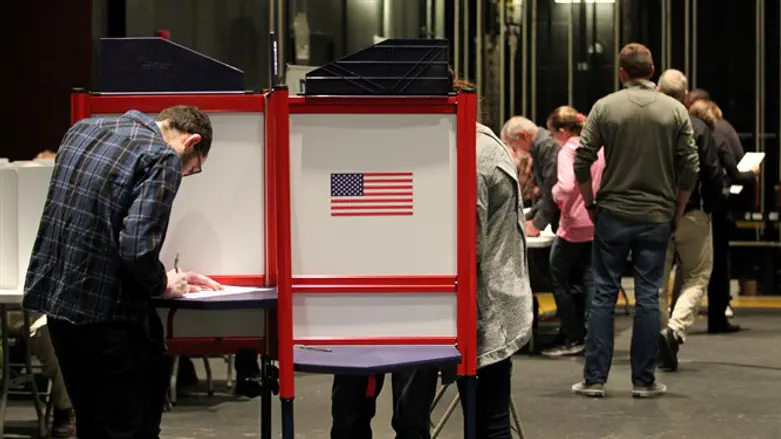 A split decision for a split country
We were warned. Barbra Streisand threatened to move to Canada if this Congressional midterm election did not go her way.
That'll teach us!
Along the schlep northward she'd be absconding with her music, her movies and a Caravan of millionaire yentas including Oprah, Fonda, Charlize Theron and many other disgruntled above-the-title elites in search of "a better life" under Trudeau. These petulant Tiffany migrants…yes, Trudeau was sure to let them in and hug them at the border as he does the masses from Syria.
After all, the suffering…oh the SUFFERING under Trump while waiting for Regime Change that would bring back the glories of Obama and bring back Hillary and firmly install people like Nancy Pelosi, Maxine Waters and Cory Booker – all members of a Party that shake hands and take pictures with renowned anti-Semite Louis Farrakhan.
That's the same Party that slandered and ripped to shreds a good man, Brett Kavanaugh, just to keep him off the Supreme Court…and prove how they can gang-up on any citizen.
"We kick them" -- Eric Holder's summons to fellow Democrats as to etiquette towards Republicans.
Leonardo DiCaprio and Brad Pitt also warned of the consequences should the GOP retain any part of Congress.
Except for James Woods and Jon Voight, Hollywood was sure to empty out…and you, Mr. and Mrs. America, weren't you waiting for Alec Baldwin to instruct you which way to vote?
How did that go?
The results are in and Americans have voted to give Socialism a chance, in the House. Blue Wave or not, but enough to give Democrats the power to do what they do best – Resist Trump. What about "bread and butter
Apparently, what is good for Venezuela is good for America.

issues" like the booming economy? But resisting/impeaching Trump IS their bread and butter issue.
Expect Dems Adam Schiff, Elijah Cummings and Maxine Waters, all these Reps slated for top House chairs, to go after Trump with renewed vengeance. Everything that was forgotten or set aside will be remembered, so there will be more vigorous investigations into "Russia collusion" and even Trump's tax returns.
Apparently, what is good for Venezuela is good for America.
Not a good night if you are part of Trump's America. Apparently, Americans – at least those who went to the polls, were "tired of winning."
That used to be a joke Trump used often. But not funny anymore.
The Kavanaugh Effect did not play as imagined.
The hearings, at which Democrats took turns torturing a man, were a show trial that should have disgusted Americans. Maybe some. But not enough.
Likewise, the Farrakhan Effect – brutish public anti-Semitism – did not turn away enough voters from the Democrats, and that is disturbing.
Especially if this is to be a trend among Millennials, thinking here of Alexandria Ocasio-Cortez as typical.
Any good news? Yes. Republicans keep the Senate. Solidly.
Good as that is, how is it that for the Florida Senate, Republican Rick Scott had been going at it neck to neck against challenger Bill Nelson, the Democrat? Scott is a Trump man all the way. He's the likely winner. But it should have been easy. As it should have been for Republican Ron DeSantis, for the Florida governorship, who spent all night trying to shake off Dem challenger, Andrew Gillum… and did, barely.  
Gillum is a radical leftist and no friend of Israel. DeSantis ran as a Trump Republican in that swing state and as a supporter of Israel.
Israel stands safe in the Senate…but no thanks to the likes of Vermont's Bernie Sanders, New York's Kirsten Gillibrand and Massachusetts' Elizabeth Warren, all of whom kept their seats.
It is a comfort that they are outnumbered by Republicans in the Senate, all of whom support Israel, and most of whom favor a clamp on illegal immigration.
Trump, the experts say, was mistaken to make immigration his big issue, and they will point to that for these wobbly results between the House and Senate.
But Trump's vision of America is entirely patriotic.
That usually sells in America. Not this time. Not all the way. We should be worried.
New York-based bestselling American novelist Jack Engelhard writes regularly for Arutz Sheva.
He is the author of the international book-to-movie bestseller "Indecent Proposal" and most recently the classic noir novel "Slot Attendant," plus the two inside journalism thrillers "The Bathsheba Deadline" and "News Anchor Sweetheart, Hollywood Edition." Engelhard is the recipient of the Ben Hecht Award for Literary Excellence. Website: www.jackengelhard.com