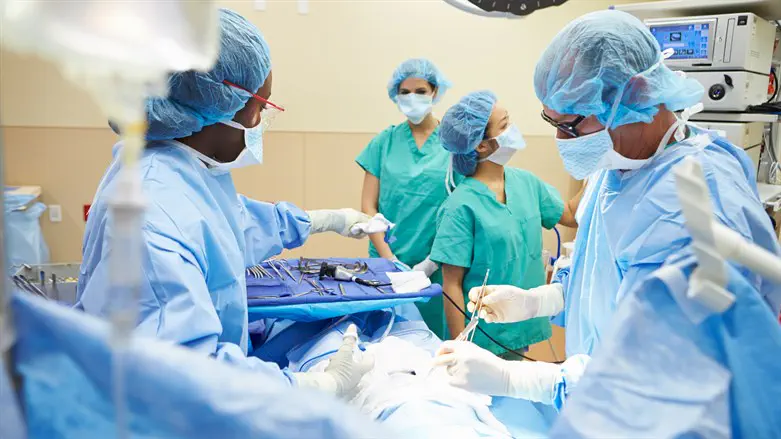 Operating room (illustrative)
iStock
In recent years, women with silicone breast implants have reported a wide variety of clinical neurological symptoms, as well as problems related to the autonomic nervous system, including cognition deficits, memory problems, depression, sleep disturbances, dry mouth and eyes, and more.
Some of these women have been given anti-depressants or anti-psychotic medications, even though these caused side effects and did not treat the root cause of the issue, Israel Hayom noted.
A new research from Sheba Medical Center and Ariel University found that the mechanism causing these issues is connected to damage to the immune system, which causes differences in the level of functioning of antibodies aimed at the autonomic nervous system.
The study will be presented Monday at a medical conference hosted by Ariel University and Assuta Medical Centers.
The study examined bloodwork from 93 women with silicone implants, compared to 36 women of similar ages who did not have silicone implants. It found a clear difference in the levels of autoantibodies, which connect to receptors in the autonomic nervous system. These levels dropped in women who had implants as compared to healthy women, and it is estimated that the antibody levels are connected to the body's tissues, especially in the brain and spinal cord.
The study was published in the Journal of Autoimmunity.
Later, researchers Dr. Gilad Halpert, Dr. Howard Amital, and Professor Yehuda Shoenfeld conducted a follow-up research in which antibodies from both sets of women were injected into mice. The mice injected with antibodies from the women with implants began to behave apathetically.
Dr. Halpert told Israel Hayom: "Throughout the years we have seen a connection between silicone and implants and autonomic diseases. In recent years, 350 women with implants came to remove the implants from their bodies. At the same time, there were women who complained not only of autoimmune diseases, but of cognitive problems and symptoms connected to the autonomic nervous system."
"We believe that these antibodies are the reason for the development of these unexplained symptoms in these women. We hope that the medical community will be more aware of this phenomenon of symptoms among women who have silicone breast implants."