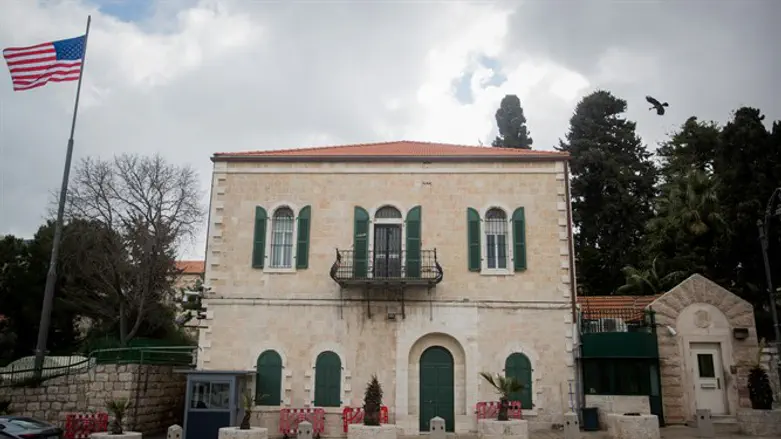 The former American consulate in Jerusalem
Yonatan Sindel/Flash90
US Deputy Secretary of State for Management and Resources Brian Patrick McKeon has confirmed that the US needs Israel's approval in order to reopen Jerusalem's diplomatic mission for Palestinian Authority Arabs.
In a tweet, the American Israel Public Affairs Committee (AIPAC) wrote: "Important question from Senator Hagerty: Does Israel have to agree before the US could open or reopen a consulate to the Palestinians in Jerusalem?"
"'That's my understanding—that we'd need to get the consent of the host government to open any diplomatic facility.' -DepSec McKeon," AIPAC tweeted.
Marc Zell, Chairman of Republicans Overseas Israel, told Arutz Sheva, "The Americans do not want to divide Jerusalem, but rather to give it to our Palestinian enemies. I am very worried that the US administration wants to turn the wheel back. I hope we will be able to send a message that our nation is united against this process."
Haim Silberstein, Chairman of the Keep Jerusalem organization, said: "Opening another consulate in Jerusalem will not help with anything, but it will harm Israeli sovereignty, distance peace, and encourage the Arabs not to agree to any compromise, because the US is backing them."
Meir Deutsch, Director General of Regavim, said, "We have been warning for a decade already that the Palestinians are creating a de facto state disconnected from the State of Israel. Wherever they open a consulate will be the capital of the Palestinian state. It would be very worthwhile for the State of Israel to wake up and put a stop to this."