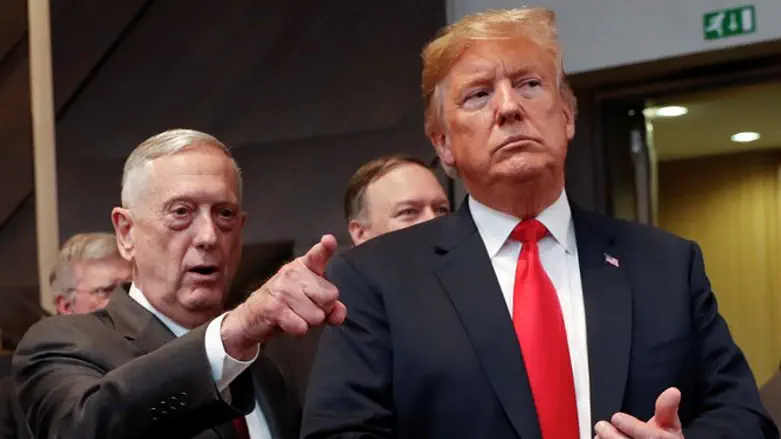 Mattis and Trump
Reuters
The order to withdraw US forces from Syria has been signed, a US defense official told CNN on Sunday night.
The official confirmed that "the execute order for Syria has been signed," while a second defense official told CNN that outgoing Defense Secretary James Mattis signed it.
The execute order spells out how and when the withdrawal of US forces from Syria will take place, but the official would not provide any additional operational details.
The drawdown is expected to begin in the next several weeks and could take several weeks to finish.
President Donald Trump announced last week that the American troops would leave Syria, citing the fact that the Islamic State (ISIS) jihadist group had been defeated.
Trump on Friday defended his decision to withdraw troops from Syria, tweeting, "I've done more damage to ISIS than all recent presidents....not even close!"
On Saturday, Trump issued another tweet explaining his Syrian withdrawal strategy.
"On Syria, we were originally going to be there for three months," Trump wrote. "And that was seven years ago - we never left."
"When I became President, ISIS was going wild. Now ISIS is largely defeated and other local countries, including Turkey, should be able to easily take care of whatever remains. We're coming home!" he added.
The controversial decision was followed by the resignation of Mattis and of Brett McGurk, Trump's special envoy for the global coalition to counter ISIS.
Meanwhile on Sunday, CNN provided details of a phone call between Trump and Turkish President Recep Tayyip Erdogan, following which Trump announced the Syria withdrawal.
A senior administration official who received a detailed readout of the phone call between Trump and Erdogan told the network that Erdogan was explaining all the problems with the US presence in Iraq and Syria and was irritating Trump.
According to the source, Trump said, "OK, it's all yours. We are done."