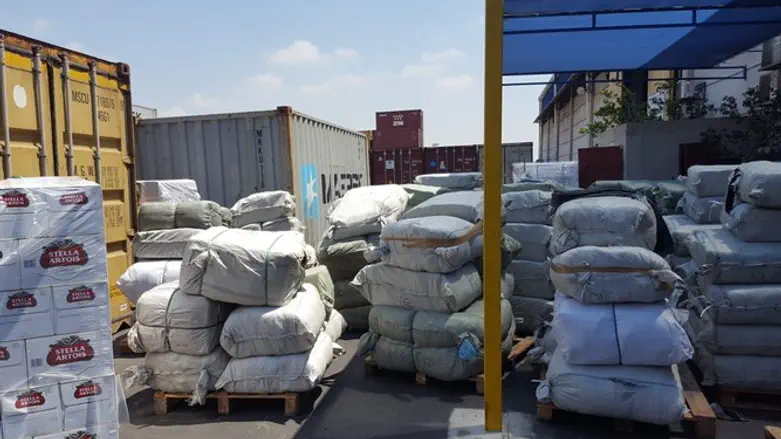 The confiscated goods
Tax Authority
Israeli authorities uncovered a widescale infrastructure intended to finance Hamas activities.
The discovery was made thanks to a joint operation by the IDF, Shabak (Israel Security Agency), the Tax Authority's National Center for Cargo Identification, and the Defense Ministry's Department for Fighting Terror Va the Economy.
According to suspicion, Hamas used textile merchants who imported large containers into Gaza.
Senior Hamas member Hamad Houdri, who owns a money-changing business declared by Israeli Defense Minister Avigdor Liberman (YIsrael Beytenu) to be a terror organization, convinced Gaza businessmen to work with his business in exchange for financial benefits.
Thousands of textile products were scheduled to be sold to Gaza civilians and the profits handed over to Hamas, for use in terror activities in Gaza, Judea, and Samaria. Some of the funds would have gone to pay Hamas terrorists' salaries, while others were intended for use in funding terror attacks and acquiring illegal weapons.
Thanks to operational and intelligence activities, Israeli security forces and Tax Authority officials succeeded in stopping and confiscating several of the containers.
Liberman signed an administrative confiscation order, and later signed a second document ordering the confiscation of four containers waiting at Ashdod's port. All of the containers contained tens of thousands of dollars worth of textile destined for Gaza.
Two weeks ago, two similar containers were confiscated by customs officials at Ashdod's port.