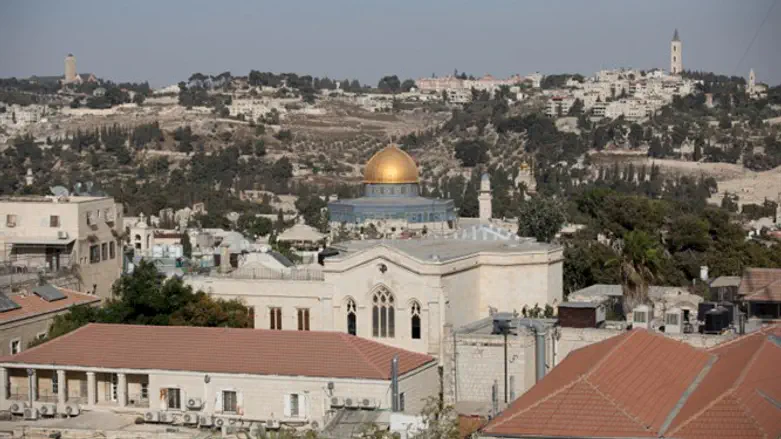 Jerusalem
Yonatan Sindel/Flash90
Jerusalem mayoral candidate Yossi Deutsch said that he is the only one in the race with the political independence to defy Prime Minister Netanyahu's silent building freeze in Jerusalem.
In an open letter to Jerusalem residents on Thursday, Deutsch wrote that "Elkin will not be able to build in the city because of his commitment to Netanyahu's political patron."
Deutsch contended that while "Nir Barkat and Ze'ev Elkin would like to build in Jerusalem, but the difference between me and them is that they are committed to the prime minister and I am not committed to the prime minister."
"If they are asked by the prime minister, who is also their political patron, to freeze construction, they have no real choice but to obey. Elkin's dependence is even greater than that of Barkat. I respect Netanyahu but I am not really committed to him. I do not intend to obey orders to freeze construction."
Elkin said in response that Deutsch's open letter was "a nice gimmick for a candidate who suddenly remembered the construction problem in Jerusalem, despite being one of the city's key figures on the subject in recent years. I am happy that in light of this letter, when I choose to be mayor and conduct a struggle to promote construction in Jerusalem, I will be able to use Deputy Mayor Yossi Deutsch in this struggle. "
Both current Jerusalem Mayor Nir Barkat and Elkin are Likud members and were endorsed by Prime Minister Netanyahu.
Jerusalem's rising housing prices have been steadily driving out younger couples from the capital city and almost all of the mayoral candidates have promised to embark on a massive wave of construction. However, multiple reports say that Netanyahu has been quashing potential building in politically-sensitive areas.
According to a Kan report earlier this month, Netanyahu ordered a freeze on the construction of 500 housing units in the Ramat Shlomo neighborhood, 220 housing units in the south of Gilo, 200 housing units in Gilo, 200 housing units in Ramot Alon and 150 housing units in the Ramot neighborhood.