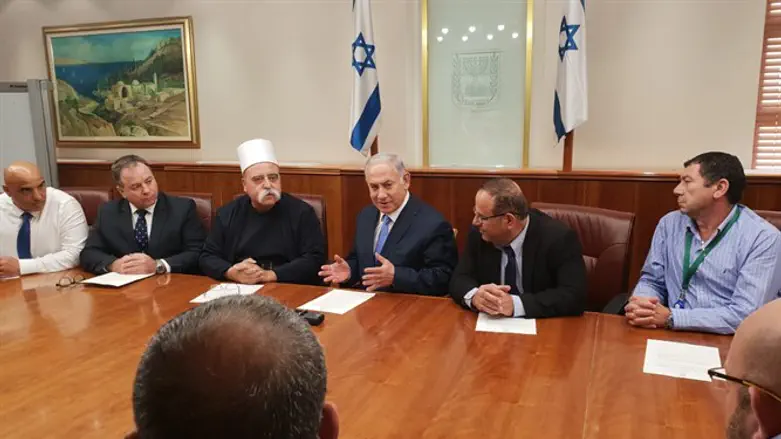 Netanyahu meets Druze leaders, today
GPO
Leaders of the Druze community are divided over the outline proposed by Prime Minister Netanayhu as a solution to the community's protest against the Nationality Law.
The spiritual leader of the Druze community, Sheikh Muafak Tarif, said at the end of a meeting with the prime minister today: "We are now returning to the north to sit with the mayors, the officers and the leaders of the community."
"I hope, of course, that the decision will be positive for the benefit of all of us - for the benefit of the state and for the benefit of the Druze community. We are hopeful that this will be done," said Sheikh Tarif.
Communications Minister Ayoub Kara responded with satisfaction to the outline. "I am excited to see the warm embrace of the community, and the results we have managed to bring to the Druze sector, and in general. The constitutional problem that is claimed to exist in the national law will be resolved by additional legislation in the Basic Law of the Army, in which the state recognizes the contribution of those serving in the army, Druze and Circassians, and gives them preference in housing."
"We have received a promise of support for the religious institutions and preservation of the Druze heritage, strengthening the Druze communities, including building new settlements and solving the problems of illegal construction," he added.
On the other hand, MK Salah Sa'ad (Zionist Union), a senior member of the community, expressed doubt regarding the implementation of the plan: "The prime minister rejected the solution in the winter session, and it is not certain whether it will take place at all because of his desire for early elections. If the prime minister is serious about his intentions, he will appear next Wednesday in the Knesset plenum in the special debate I initiated on the subject of the Nationality Law, and will officially announce his intentions to the representatives of the Druze community who will come to the meeting. We were fed up with the prime minister's false promises."
The plan involves new legislation which would anchor the status of the Druze and Circassian communities. The law will also recognize the contribution of those communities to the security of the state and will include support for community institutions, the strengthening of the Druze communities and the establishment of additional settlements as necessary, as well as the preservation of the heritage of the Druze people.