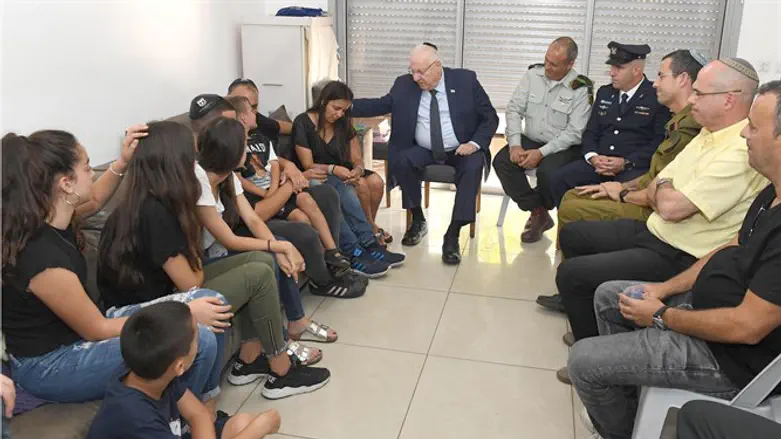 Rivlin with bereaved family
Mark Neiman, GPO
President Reuven Rivlin held a condolence visit to the home of the late Staff Sergeant Aviv Levi, who was killed by sniper fire on the border of the Gaza Strip last Friday.
Noam, Aviv's uncle, told the President about the warm embrace the family received from all parts of the nation: "The entire nation has enlisted to our aid. They embrace us absolutely. The next morning a box of bread and vegetables arrived without the name of the sender. This is the people of Israel."
"Your child protected us all," said the President, adding that "all our security is based on these young soldiers who bear the burden of defending our country."
"I hope that Aviv will be the last death," said Aviv's mother, Perla, "so that no mother will feel this pain. So that no mother will mourn her child."
The President told Aviv's wife that the entire nation was moved to hear the things she had written about the special relationship they had, and embraced her warmly.
Yaakov, the father, told the President about receiving the terrible message while on a family vacation abroad, "I would like to note in particular the care and warm treatment we received during the most difficult day of our lives from the Foreign Ministry and the Military Attache in Italy."
"There is no consolation for your pain," said the President, addressing the extended family: "The pain is yours, also yours brothers and yours too, dear grandmothers. Our grandchildren are our heart, and the loss is unbearable ... I hope and wish you will receive good news, and may we participate in your future celebrations. The entire nation embraces you in this difficult hour."