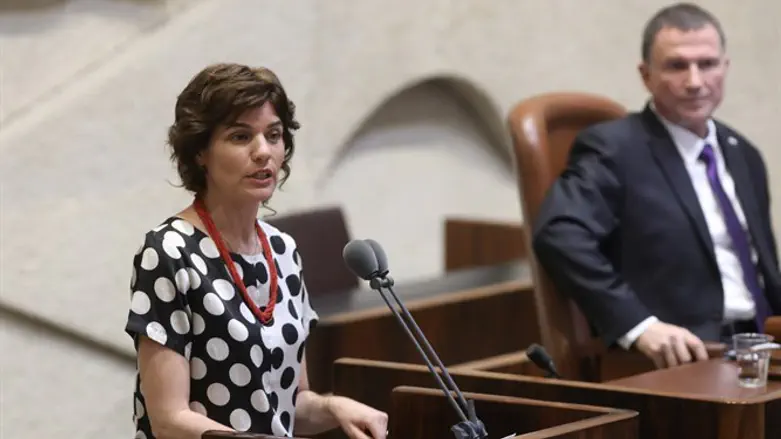 Zandberg during the discussion
Yitzhak Harari, Knesset Spokesperson
The Knesset on Wednesday discussed a motion for the agenda on "Recognition of the Armenian Genocide," submitted by MK Tamar Zandberg (Meretz), who asked to bring the matter to the Knesset for discussion.

The proposal won a majority of 16 supporters, no opponents.

At the start of the discussion, Knesset Speaker Yuli Edelstein said, "I must say that I have mixed feelings: On the one hand - the time has come. For years I have been calling to fulfill this moral duty; More than a million people were slaughtered and murdered within a short time. This is a horror that is even hard to imagine. But in the past week, I am also embarrassed, or at least uncomfortable."
"I have heard elected officials and public figures openly talking about the fact that the recognition of the Armenian genocide is an 'appropriate Zionist response' to Turkey's behavior after the recent events on the Gaza border. I really have a hard time understanding this position: Since when does Ankara pull our moral strings? Does history change according the nature of relations with a leader like Erdogan?" Edelstein added.

"I do not deal with comparisons, and I think it's right not to use the term 'Holocaust' when dealing with the Armenian genocide, but just think how we would feel if the reactions to the Holocaust were also weighed on diplomatic scales: 'Is it worth recognizing or not? Is it convenient for us at the moment or not?' We would shout [in protest]. The Knesset should recognize the Armenian genocide because it is the right thing to do, because that is the just thing, and I hope that we will eventually also do it."
MK Tamar Zandberg, who submitted the proposal, said: "Time after time this issue has fallen victim to political struggles. The failure to recognize the Armenian genocide is a moral stain on the State of Israel, especially when it is done out of political interest. The disaster of another people is not a bargaining chip with a merchant, not when you oppose him or when you want to stick a finger in the eye of one leader or another. There are those in this house who have turned this issue into a tool for political gain."
"It is precisely because of the fate of the Jewish people that it is our historic and moral duty to be the first to do [recognize the Armenian genocide]. Who knows better than we how it feels when big powers know about the atrocity and stand by. Exactly for this reason we call every year 'Never Again.' Recently, MKs from all factions of the house have announced that they would promote a bill to recognize the Armenian genocide. I will support the proposal, but today we have a chance to make history, so I ask that the matter not be transferred to the committee and buried, but rather to vote in favor of holding a debate in the Knesset. That would be a very significant step in the moral message that the State of Israel sends to the entire world, "Zandberg said.

The government chose not to respond to the motion for the agenda.