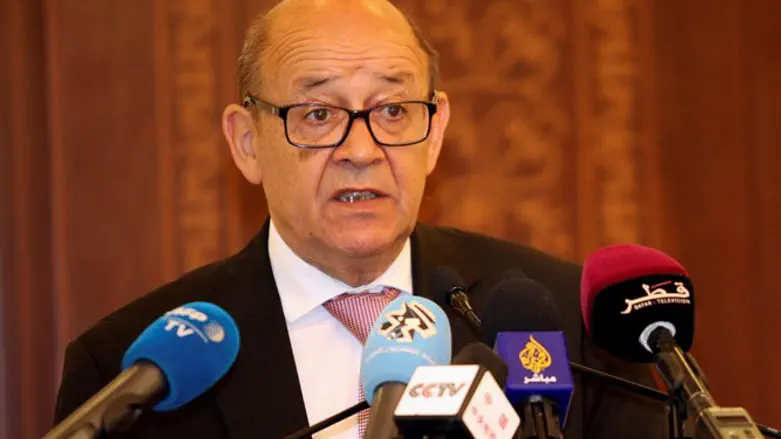 Jean-Yves Le Drian
Reuters
France on Friday urged the Syrian regime and its ally Moscow to grant weapons inspectors immediate access to the site of an alleged chemical attack in Douma, accusing them of "obstruction" aimed at eroding the quality of the evidence, according to a report in AFP.
Western powers say the April 7 attack involved chlorine and sarin and killed dozens.
A team of chemical experts from the Organization for the Prohibition of Chemical Weapons (OPCW), based in The Hague, arrived in Damascus on Saturday but not yet been allowed to enter Douma.
French Foreign Minister Jean-Yves Le Drian said on Friday the inspectors needed "full, immediate and unhindered access" to the site in the town of Douma.
Their mission has been put on hold after a United Nations security assessment team were fired at, and officials at the OPCW have said that Russian and Syrian forces have likely removed key evidence.
The U.S. said Thursday it has "credible information and intelligence" that shows Russian and Syrian regime officials are sanitizing the site of the attack.
"At this time the OPCW investigators still have no access to the chemical attack site in Douma. If Russia and Syria ultimately abide by their commitments, it will take (the investigators) at least two weeks," Le Drian said in a statement quoted by AFP.
"The OPCW mission has as its goal establishing whether a chemical attack indeed took place and identifying the nature of the chemical agent used. This obstruction will obviously harm the quality of the investigation," he added.
"It seems likely that this attitude is intended to make proof and material evidence linked to the chemical attack disappear," said Le Drian.
The French minister also said Russia was issuing "contradictory official statements on the chemical attack".
"One day the attack didn't take place, the next, it was carried out by armed groups," he said.
"A day later, it's a Western manipulation. There's no concern for either coherence or truth when it comes to sowing doubt and confusion," he added.
Le Drian reiterated France's assertion that it has conclusive evidence of a chemical attack in Douma on April 7 as well as proof that it was carried out by the regime.
(Arutz Sheva's North American desk is keeping you updated until the start of Shabbat in New York. The time posted automatically on all Arutz Sheva articles, however, is Israeli time.)