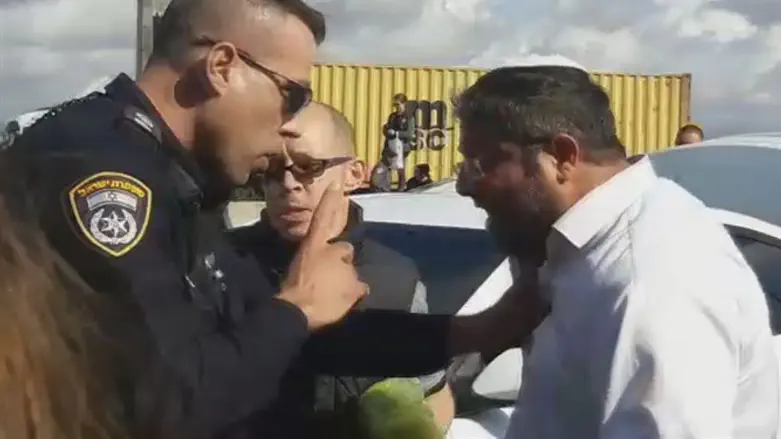 Attorney Itamar Ben Gvir argues with policeman
Otzma Yehudit
Dozens of right-wing activists from the Otzma Yehudit movement arrived Tuesday afternoon near the entrance to the Israeli-Arab city of Umm al-Fahm, where they were blocked by the police.
The activists sought to demonstrate against the Farouk mosque, the mosque from which the terrorists set out to commit the terrorist attack on the Temple Mount, demanding the closure of the mosque.
According to the movement's members, their demonstration does not require a permit, in view of the verdict in the petition of left-wing activist Eldad Yaniv, in which he demanded that he be allowed him to hold protests in Goren Square, adjacent to the attorney general's office in Petah Tikva, without a permit. As will be recalled, the Supreme Court justices ruled that there was no need for prior approval for non-political demonstrations.
Despite this, the police refuse to allow the activists to enter Umm el-Fahm, for fear of clashes with the Arab residents.
It should be noted that this morning Public Security Minister Gilad Erdan, in an interview with Kol Rama Radio, claimed that Otzma Yehudit activists did not need permission to hold a demonstration in Umm al-Fahm. "The moment the court canceled the need to obtain a permit, everyone is allowed to demonstrate and protest everywhere, even in Umm al-Fahm."
עימותים בצעדת עוצמה יהודית לאום אל פאחם