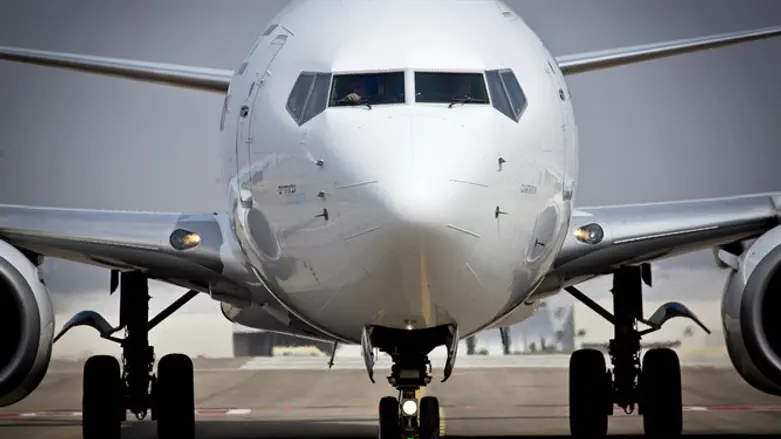 El Al airplane
Flash 90
An Israeli woman is fighting for her life, after she was injured during the evacuation of a passenger plane in Budapest last Friday.
Passengers onboard an Israel-bound flight were forced to evacuate from the plane as it sat on the tarmac of Budapest Ferenc Liszt International Airport early Friday morning, after the cabin of the plane filled with smoke.
The plane, which had been leased by the Israir company for a flight from the Hungarian capital to Israel's Ben Gurion International Airport, became filled with smoke from a vehicle as it passed the plane on the tarmac.
The smoke emitted by the vehicle entered the plane and filled the cabin, forcing the flight crew to open the emergency doors and evacuate the passengers, despite orders by the captain not to open the emergency exits.
As passengers lined up to exit the plane via the emergency slides, 38-year-old Dikla Abitbul was knocked down from the emergency exit before the slide had fully inflated.
"She didn't slide down," said Abitbul's mother, Rikki Sapirin told Yediot Ahronot. "She didn't get the chance to slide. She stood at the entrance to the plane, along with five other passengers who were the first in line for when they opened the slides."
Dikla, a mother of two from the central Israeli city of Lod, suffered serious injuries in the fall, and is currently listed in critical condition in a local hospital.
"She landed on her head, broke her ribs, has casts on her arms – that's the situation right now," said Sapirin. "We're staying here in Budapest."
Sapirin says her daughter had traveled to Hungary for a five-day vacation.
"She was telling us the whole time how much she's enjoying herself. She bought presents for the kids, said they got some snowfall – then we got the news that one morning."