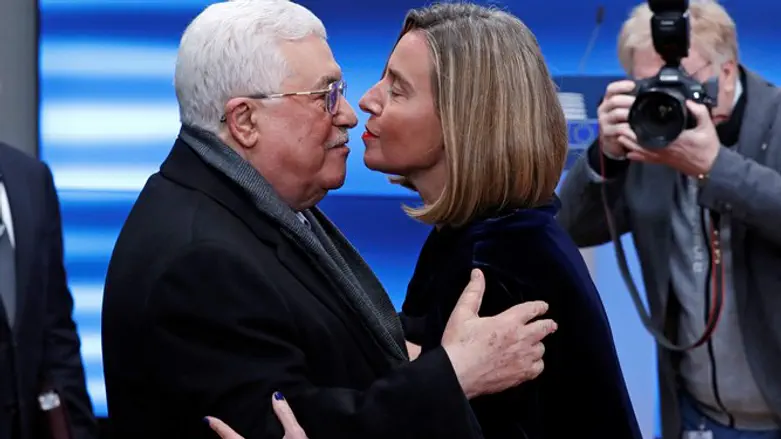 Mahmoud Abbas is greeted by EU foreign affairs chief Federica Mogherini
REUTERS
The European Union pledged its support Monday for Palestinian Authority chief Mahmoud Abbas' vision of a Palestinian state with Jerusalem as its capital.
On Monday, PA chairman Abbas met with European Union Foreign Affairs High Representative Federica Mogherini in the EU capital in Brussels, in a bid by the PA leader to win recognition for Palestinian statehood from the 28-member European body.
The trip, which coincides with Vice President Mike Pence's three-day visit to Israel, is part of a larger effort to circumvent the US, the traditional broker of PA-Israel negotiations, and push to take a more active role in the Middle East.
On Sunday, the PA's foreign affairs chief Riyad Al-Maliki told AFP that the "rules of the game" had been fundamentally altered by President Donald Trump's decision to recognize Jerusalem as the Israeli capital.
"Since Trump's decision has altered the rules of the game, he (Abbas) expects the European foreign ministers to come forward and collectively recognize the state of Palestine as a way to respond back to Trump's decision," Maliki said.
"If the Europeans want to be a player then they have to be fair in their treatment of both parties and this should start with the recognition of the state of Palestine."
During his meeting with Mogherini, Abbas urged the EU to back his plans for Palestinian statehood, and efforts to make eastern Jerusalem the capital of the new state. Abbas also hinted at his desire for renewed negotiations – led by the EU.
"We are keen on continuing the way of negotiations," Abbas said. "We are determined to reunite our people and our land."
Mogherini expressed her support for Abbas' position, after having criticized President Trump's decision to recognize Jerusalem as Israel's capital.
"I want to reassure President Abbas of the firm commitment of the European Union to the two-state solution with Jerusalem as the shared capital of the two states," Mogherini said during the meeting.
Just before the meeting, Mogherini called Trump's declaration "a problem".
"Clearly there is a problem with Jerusalem. That is a very diplomatic euphemism."
The meeting comes a day after Prime Minister Binyamin Netanyahu rejected efforts by Abbas to replace the US with the EU as a broker for future peace talks.
"On peace, I have a message for Abu Mazen [Mahmoud Abbas]: There is no alternative for American leadership in the diplomatic process. Whoever is not ready to talk with the Americans about peace – does not want peace."