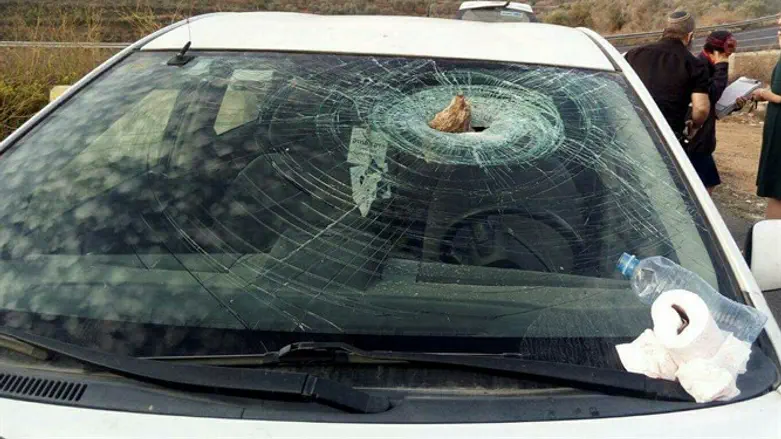 Rock attack (archive)
Photo: TPS
The IDF on Sunday issued a new report featuring updated data on terror attacks in 2017.
According to the report, last year there were 99 terrorist attacks in Judea and Samaria or terrorist attacks carried out by terrorists from Palestinian Authority (PA)-assigned areas of Judea and Samaria. In 2016, there were 269 such terror attacks.
At the same time, while there was a decrease in the number of attacks, the number of Israeli victims has increased: In 2017, 20 Israelis were murdered in terror attacks and 169 were injured. In 2016, in comparison, 17 Israelis were murdered and 263 were injured.
The report also noted that 10,061,120 shekels of "terror money" were captured during IDF operational activity in Judea and Samaria in 2017. The money that was seized was meant to fund terrorist attacks or to reward terrorists who carried out an attack against Jews.
In 2017, security forces shut down 42 shops in PA-assigned areas of Judea and Samaria that were used to manufacture weapons. 455 illegal weapons were seized.
According to the figures released by the IDF Spokesperson, 3,617 terrorists were arrested in 2017, compared to 3,143 terrorists who were arrested in 2016.
On the Gaza front, the IDF data indicate an increase in the number of rockets fired by terrorists towards Israel: 35 rockets were fired in 2017, compared to only 15 rockets fired in 2016.
In retaliation for these attacks, the IDF attacked 59 targets in Gaza. Among the targets attacked were launchers, outposts and training camps, weapons production sites, observation posts and more. Zero infiltrators entered Israel from the Egyptian border in 2017.
For more than four years, the IDF has been assisting the residents of the Syrian Golan Heights in surviving the difficult civil war that is taking place in their country.
In 2017, according to Sunday's report, 917 Syrian victims were treated by Israeli doctors, 542,880 liters of fuel were provided to victims of the Syrian civil war and 694 tons of food was transferred to them. Israel donated 6,351 baby diapers to Syria and 14,138 boxes of prenatal multivitamin to the victims of the Syrian civil war.
Since the beginning of 2017, 2,679 patients have been treated at the American Mazor Ladach Hospital, which was established near the Israel-Syria border.