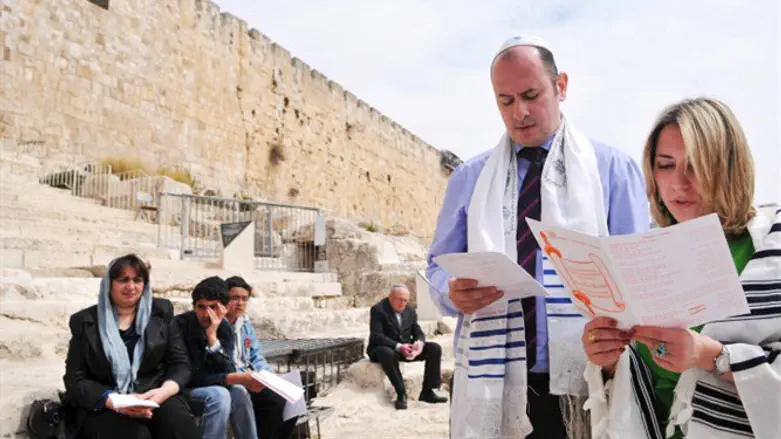 Reform Jews praying in Jerusalem (illustrative)
Yossi Zeliger/FLASH90
The Reform Movement petitioned the court against the Hebrew Labor Calendar website, claiming that the board discriminates against the Arab population by publishing jobs for Jews only.
The court accepted the Reform Movement's positions and fined the 'Hebrew Labor Calendar' tens of thousands of shekels.
Members of the Derech Chaim movement, which operates the website, said that while the Reform Movement is is petitioning against discrimination against Arabs in employment, the movement still refuses to hold marriage ceremonies for mixed Jewish and Arab couples.
Uri Kirshenbaum, a member of the board of directors of the Derech Hayim movement, told Arutz Sheva that "once again the Reform Movement is exposed by its hypocrisy. While it makes demands on organizations that 'discriminate' between Jews and non-Jews, at the same time it refuses to hold assimilation marriages even though the systematically trample upon Jewish law."
"This hypocrisy must be stopped and the Jews should be allowed to express solidarity and love towards their brethren," Kirschenbaum added. "It's sad to see that the crazy views of the Reform Movement got them a victory in court. We believe that the people of Israel deserve and want to preserve their brotherhood. The struggle for Hebrew labor is a central part of the issue."
Noa Sattath, director of the Reform Center for Religion and State, said in response to Arutz Sheva that "The Reform Movement is committed to building Jewish families in Israel according to the evolving concept of family in modern society."
"Reform Judaism perceives Halakhah as a significant source, but not as the only source The issue of the Jewish identity of the married women is relevant to the religious ceremonies that the movement conducts (weddings, bar mitzvahs, etc.) but is not relevant to works published on a Hebrew work site (such as high-tech or contracting)," Sattath added.
"A Hebrew work site, as the court ruled, promotes discrimination in employment that is illegal and immoral. The Reform movement employs a variety of workers of different faiths in an egalitarian manner."