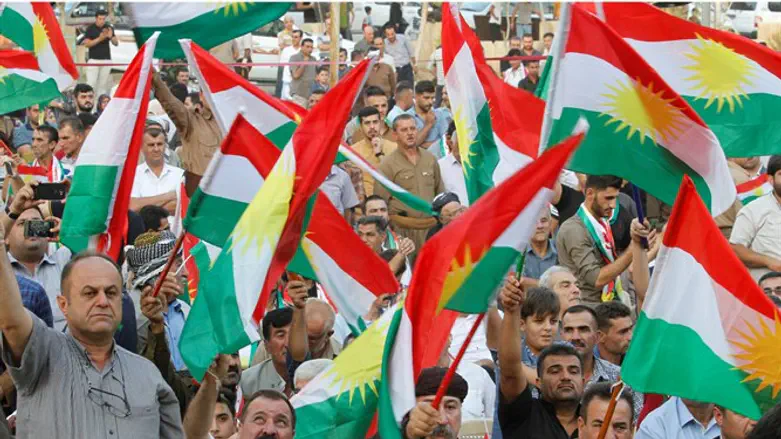 Kurds in Iraq
Reuters
A new bill proposed by MK Ksenia Svetlova (Zionist Union) would enable Israelis to travel to Kurdish-controlled areas. As the Kurds live in areas spread across Iran, Iraq, and Syria, Kurdish-controlled areas are defined as enemy territory and are off limits to Israelis.
Svetlova, who was an Arab affairs reporter before entering the Knesset, told the Times of Israel that she initiated the bill in order to strengthen the ties between Israel and the Kurds. "It's important for Israeli citizens who are interested in pursuing ties with the Kurds to know that when they come back from Kurdistan they won't be persecuted by a variety of security agencies, and this is unfortunately what happens now," she said.
Kurdish affairs analyst Zach Daniel praised the move, telling Arutz Sheva that the Kurdish people were natural allies for Israel. "Time and again, the Kurds proved their dedication to defeat terrorism and promote human rights" he said.
"They've built semi-autonomous areas, safe for tourism, business — and with ethnic and religious pluralism," he added. "Their reward begins with being treated differently from the arbitrarily-defined, failed states adjacent to them. t's not only about Israel. Every country should revise their policies to reflect this reality. "
"MK Svetlova's bill does just that, and all parties should back her common-sense efforts."
The proposed bill came as the Knesset held a conference devoted to ties between the Kurdish people and Israel. Svetlova, who chairs the Lobby for Strengthening the Relationship between the State of Israel and the Kurdish People, repeatedly called on Israelis to increase their cooperation with the Kurds.
There are similarities in our destinies," she told the conference.
Israel had been the only country to openly support Kurdish independence after the Kurdish declaration of independence in October, with Netanyahu backing "the legitimate efforts of the Kurdish people to attain a state of its own."