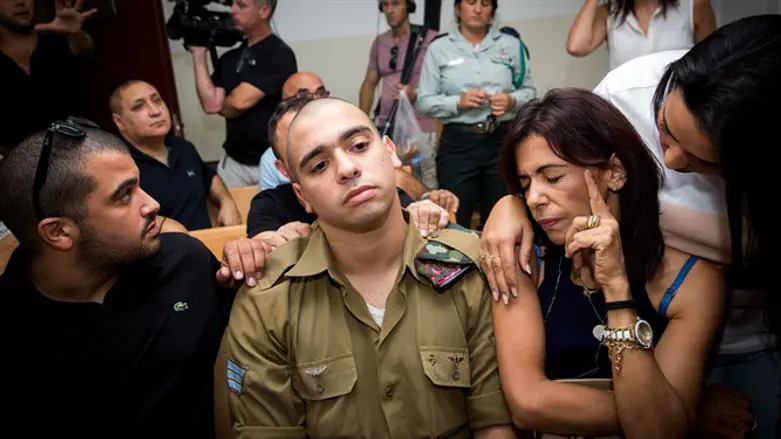 Elor Azariya sits with his family at his trial
Miriam Alster/Flash 90
Oshra Azariya, the mother of Elor Azariya, asked President Reuven Rivlin to pardon her son, Yisrael Hayom reported Friday.
Azariya was convicted of manslaughter in January for the shooting death of a wounded Arab terrorist minutes after the terrorist perpetrated an attack in Hevron that left one soldier wounded.
In February, an IDF court sentenced Azariya to 18 months in prison, a ruling that was upheld by the IDF Court of Appeals in July.
Radical left NGO Betselem filmed the event, but other films showed that they had edited the film. The case led to much public involvement, with a large majority of soldiers and their parents siding with Azariya, believing his claim that the terrorist wore an unseasonably heavy jacket and moved in such a way as to arouse suspicions that he was a suicide bomber. There was anger at the then Chief of Staff Yaalon who talked about Azariya's guilt before the investigation began.
IDF Chief of Staff Gadi Eizenkot slashed four months off Azariya's sentence in September.
Last month, Azariya submitted an appeal to President Rivlin asking for a full pardon.
Azariya contended in his appeal that "Unfortunately, I did not merit a fair trial. That is how I feel and there is nothing that can change that. Anyways, I request a pardon based on the attributes of mercy and kindness, which are the foundation of any pardon," he wrote.
Azariya said that while he did not regret his actions, he would not have shot the injured terrorist in Hevron had he known that he was not wearing a suicide vest. "I see that everyone says I have not expressed remorse. That is inaccurate- had I known in those tense seconds that the terrorist did not have a bomb I simply would not have shot him."
"It is enough to see this from the videos from the scene," Azariya continued. "Not the edited ones from (the NGO) B'tselem, the ones taken by Israeli citizens...there were shouts that he was booby-trapped and posed a danger."
Turning to Rivlin, Azariya wrote that "my family and I have suffered enough...I'm asking you to pardon me in the fullest sense of the word, to consider it seriously and to take into account all the circumstances and to end my stay in prison. Please return me to my family."
Oshra Azariya sent a letter to Rivlin two weeks after her son submitted his appeal.
"I am asking in every possible way - return Elor home. We are also exhausted, and the joy of Elor's life is slowly dying out," she wrote in the letter, which was published in Yisrael Hayom.
"Before you make your decision about the appeal for a pardon which was submitted by my son, my love, Elor, I want to tell you some things about him that you probably do not know because they were never told or written anywhere.
"Well sir, Elor's great dream, ever since he was a little boy, was to serve the state and to contribute as much as possible," she said.
She recounted a training exercise which Azariya did not pass because he stopped to help a fellow soldier who had stumbled while carrying heavy packs of sand. "I asked him if he was sorry he was delayed and therefore did not pass. I will not forget his answer: 'Mom,' he said to me, 'I would have been sorry if I had not helped him.'"
She also said that she had lost dozens of pounds and was depressed, and that her husband had suffered a stroke since their son;s trial began.
The President is expected to give his response within two months of the request's submission.