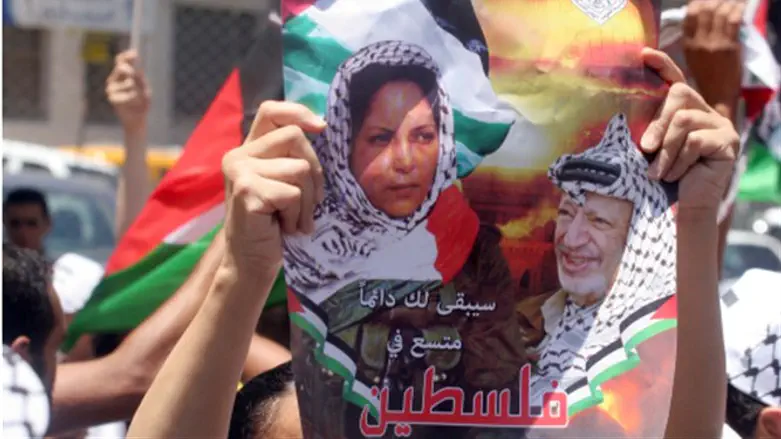 Poster of Dalal Mughrabi in Ramallah demonstration
Issam Rimawi / Flash 90
Belgium has decided to cut the funding it provides to the Palestinian Authority's (PA) educational system after the PA named a school after Dalal Mughrabi, the woman responsible for one of the worst terrorist attacks in Israel's history.
Belgium built the school in 2012-2013 near Hevron, and it was later named after Dalal Mughrabi, who led the terrorist attack in which 38 Israelis on a bus, including 13 children, were murdered in 1978's Coastal Road Massacre.
"The Belgian government unequivocally condemns the glorification of terrorist attacks. Belgium will not allow itself to be associated with the names of terrorists in any way" Belgian Foreign Ministry spokesperson Didier Vanderhasselt told the Times of Israel.
Dalal Mughrabi is routinely memorialized as a hero by the Palestinian Authority. The Palestinian Media Watch organization reported in August that the official summer camp run by Palestinian Authority Chairman Mahmoud Abbas' Fatah faction was named the "Martyr Dalal Mughrabi Camp", which the PA's official mouthpiece, Al-Hayat Al-Jadida praised as a place which helped to create "an educated and aware generation".
Earlier this year, Palestinian Media Watch revealed that funds provided by the United Nations and Norway had been used to support a women's center named after Mughrabi in the town of Burqa. Norwegian Foreign Minister Brende demanded the PA immediately return the donated money and remove the Norwegian Foreign Ministry logo from the building.
Despite the uproar, the head of the village's council, Sami Daghlas, told PA news agency WAFA that the town would not rename the women's center, saying that the "the name Dalal Mughrabi was chosen by the villagers to commemorate a Palestinian hero who sacrificed herself for her country and therefore they have no intention to change its name regardless of the price."
In early September, Prime Minister Binyamin Netanyahu released a video in which he slammed the Palestinian Authority's propensity for naming prominent sites and schools after terrorists. "Children should be taught to love and respect, not hate and kill," Netanyahu said. "There are so many champions of peace to dedicate statues to. Why do the Palestinians consistently choose to honor mass murderers?"