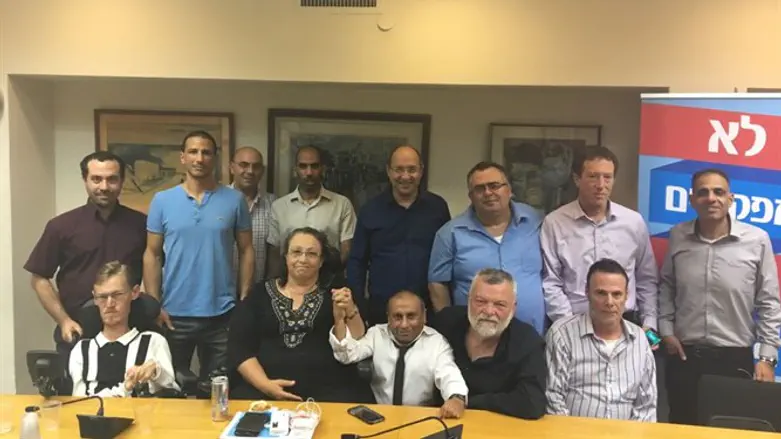 Negotiations between Histadrut and disable persons
Courtesy of the Histadrut spokesperson
Following 12 hours of marathon negotiations held at the Histadrut labor federation, a breakthrough was achieved on Thursday night to improve the situation of 244,000 disabled people in Israel.
The negotiations were mediated by Histadrut chairman Avi Nissenkorn, coalition chairman MK David Bitan (Likud) and Professor Avi Simhon, and were in accordance with the policies of Prime Minister Binyamin Netanyahu and Finance Minister Moshe Kahlon.
The agreement will see an addition to the stipends received by disabled people in a number of stages as well as other benefits, all within an annual budgetary framework that will reach 4.2 billion shekels in 2021.
According to the agreement, all the achievements will be anchored in legislation. The disability benefits will increase starting on January 2018 and until January 2021, in amounts estimated at full maturation of 700-1,800 shekels a month, while the disability pension will be linked to the national average wage.
The sides also agreed on an additional 150 million shekels for disability allowances for children, an addition of 300 million shekels to old age pensions, and an addition of 75 million shekels to encourage employment for the disabled.
Histadrut chairman Avi Nissenkorn said at the end of the negotiations, "We made social history in the State of Israel. We dramatically improved the financial situation of the disabled. I want to thank Finance Minister Moshe Kahlon and coalition chairman MK David Bitan, Prof. Avi Simhon who negotiated on behalf of the Prime Minister, and MK Ilan Gilon, who made every effort to reach a historic agreement on the eve of Yom Kippur. The organizations representing the disabled persons have shown determination and responsibility in their struggle for social justice."
The organizations representing the disabled persons said they "welcome the historic agreement signed tonight. This is an extremely important social agreement. We thank the chairman of the Histadrut, Avi Nissenkorn, coalition chairman MK David Bitan, MK Ilan Gilon, Professor Simhon and the Israeli government."
Disabled persons have been protesting in recent weeks and blocking public intersections as part of their campaign to raise the monthly stipends they receive from the National Insurance Institute from 2,342 shekels to the minimum wage of 5,000 shekels.
Earlier this week, police announced that their forgiving attitude towards the protests was over, after disabled demonstrators blocked off Tel Aviv's Ayalon Highway, snarling traffic and enraging drivers heading back to work after the Rosh Hashanah holiday.
After the police began to fine those who were blocking roads, a campaign was initiated to help pay the fines. The campaign raised tens of thousands of shekels.