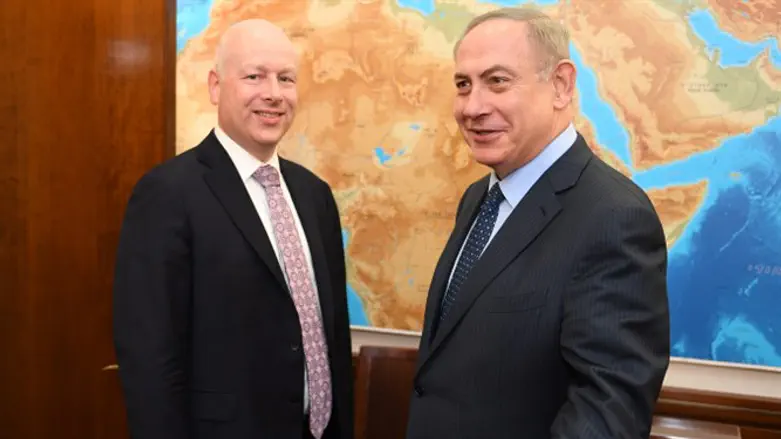 Greenblatt and Netanyahu
Flash 90
U.S. President Donald Trump's Middle East peace negotiator, Jason Greenblatt, will return to Israel to "continue the peace track", a White House official said on Sunday, according to Reuters.
Greenblatt's latest visit follow's Trump's meetings with Prime Minister Binyamin Netanyahu and Palestinian Authority (PA) chairman Mahmoud Abbas last week in New York.
"While President Trump had productive meetings with Prime Minister Netanyahu and President Abbas at the United Nations, we always said that the UN would not focus on peace conversations and that those conversations would be happening on a separate track," the official said in a statement.
"(Greenblatt) will have follow-up meetings in advance of a private trip in the region with his family for Sukkot. The meetings are part of the Administration's quiet, steady discussions toward peace," added the official, according to Reuters.
Greenblatt has visited the region several times in recent months, as the Trump administration continues its efforts to bring Israel and the PA back to the negotiating table.
He previously visited in late August.
PA officials have expressed pessimism that Washington's peace efforts can bear fruit, though Abbas praised Trump's efforts during their meeting last week.
Trump recently said he believes there is a "chance" for a Middle East peace settlement.
At his meeting with Abbas, the President said he is prepared to pour his heart and soul into brokering a permanent peace agreement between Israel and the PA.
"I certainly will devote everything within my heart and within my soul to get that deal made. From the time I was a little boy, I've been hearing about peace in the Middle East. We're going to see what we can do," Trump told Abbas.