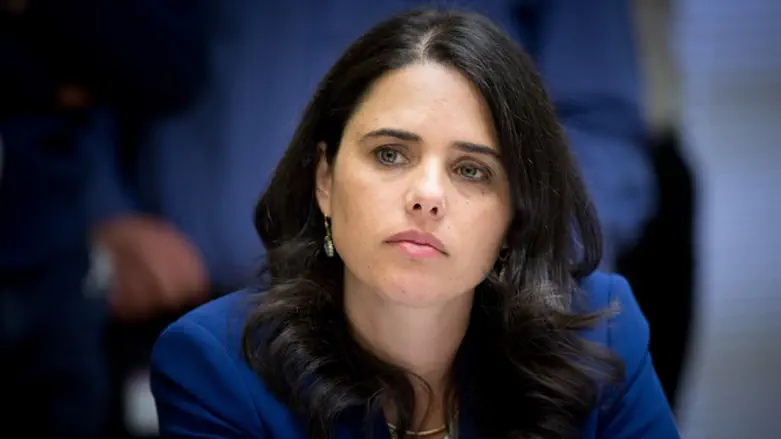 Justice Minister Ayelet Shaked
Flash90
Justice Minister Ayelet Shaked (Jewish Home) and Tourism Minister Yariv Levin (Likud) are advancing revolutionary new legislation which seeks to apply sovereignty over Judea and Samaria.
At the moment, due to the fact that Israeli law does not apply in Judea and Samaria, the army Head of Central Command, which is the official sovereign entity in Judea and Samaria, applies some of the laws on Jewish residents in Judea and Samaria by means of orders signed by the General.
According to a report by Yediot Aharonot, Shaked and Levin, who stand at the head of the Knesset Legislation Committee, are advancing legislation whereby any governmental bill will also automatically be applied by general's order to Judea and Samaria.
The ministers said, "It is not possible to tolerate a situation in which the government applies one set of rules to specific parts of the land, while neglecting residents in other parts, where residents don't merit the same treatment."
Minister Shaked emphasized that "We will not accept the situation in which Israeli law doesn't apply to 430 thousand citizens of the state of Israel living in Judea and Samaria."
"It is not possible to tolerate a situation in which obligations are applied equally, but rights are trampled blatantly. Judea and Samaria is not the back yard of Israel, and from now on the Knesset Committee will seek to verify how any ministry spearheading any governmental law coming to the Committee's table intends to relate to residents of Judea and Samaria," she added.
Levin said that settlement in Judea and Samaria is an "established fact," and not something temporary. "The time has come for the state of Israel to relate to all its citizens in the same way and apply the same laws to all of them."
"The process we are spearheading will end the blatant discrimination of Israeli law against stretches of land and the citizens living in them," he said.