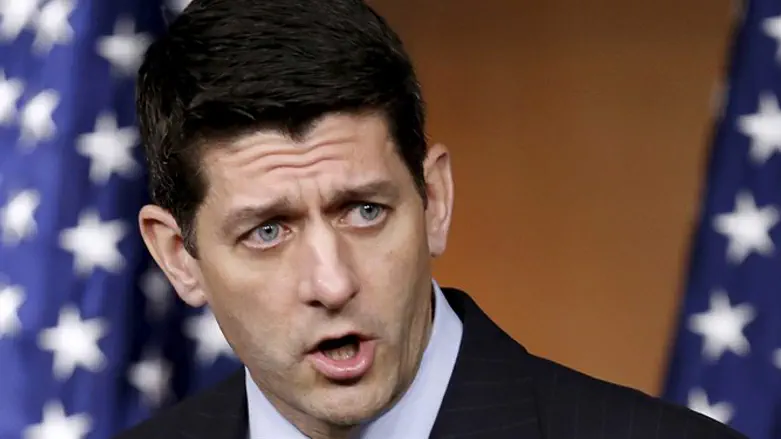 Paul Ryan
Reuters
House Speaker Paul Ryan (R-WI) on Friday blasted the Obama administration over its decision to abstain in the UN Security Council vote on a resolution against "Israeli settlements", calling it "absolutely shameful."
"Today's vote is a blow to peace that sets a dangerous precedent for further diplomatic efforts to isolate and demonize Israel. Our unified Republican government will work to reverse the damage done by this administration, and rebuild our alliance with Israel," Ryan said in a statement.
Senator John McCain (R-AZ) said Obama's abstention "has made us complicit in this outrageous attack" and added the abstention "emboldens" Israel's enemies.
Minister Yuval Steinitz (Likud), meanwhile, said the United States had abandoned Israel.
"The United States abandoned Israel, its only ally in the Middle East," Steinitz told Channel 2 News after the vote.
"The heart aches that after eight years of friendship… and cooperation with Obama, this is his final chord" before he leaves office, he added.
MK Yoav Kisch (Likud) criticized Obama as well, saying the outgoing president had "betrayed Israel" as he had done with other allies.
"The state of Israel must operate a new policy in Judea and Samaria and stop protecting the Palestinian Authority," he added.
The resolution, which calls on Israel to stop its construction in Judea, Samaria and eastern Jerusalem passed by a majority of 14-0. The United States abstained, just as diplomats had said on Thursday it was planning to do.
Meanwhile, a spokesman for Palestinian Authority (PA) chairman Mahmoud Abbas welcomed the Security Council's vote, saying it is a "big blow" to Israeli policy.
The spokesman, Nabil Abu Rudeineh, told AFP that the resolution was also a show of "strong support for the two-state solution".
(Arutz Sheva's North American desk is keeping you updated until the start of Shabbat in New York. The time posted automatically on all Arutz Sheva articles, however, is Israeli time.)