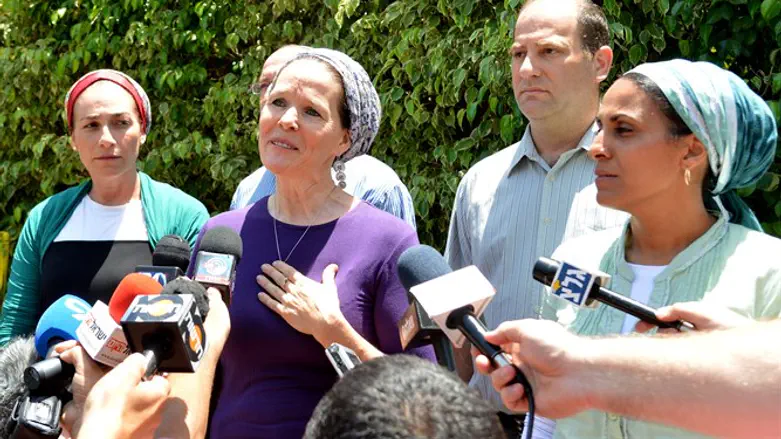 Parents of the 3 kidnapped boys
Flash 90
Racheli Frankel, mother of the kidnapped and murdered 16-year-old Naftali Frankel, will take the witness stand in an American court on Tuesday and testify regarding the string of events that led to her son's kidnap and murder.
Frankel was kidnapped and murdered by Hamas terrorists in June 2014, along with his friends GIlad Sha'ar, 16, and Eyal Yifrah, 18, after Arabs posing as religious Jews picked the boys up at a bus stop in Gush Etzion. The teenagers were on their way home from school. The entire country prayed for the safe return of the boys for three weeks, but it was later determined they had been killed almost immediately.
After the murder, Frankel took Iran and Syria to court, claiming the two countries had funded Hamas' terror activities, including the kidnap and murder of her son.
The plaintiffs demand the court fine Iran and Syria for a total of $340 million in damages, in compensation for the money they have in the past given to terror organizations such as Hamas.
Frankel was an American citizen, a fact which allows his family to sue both Iran and Syria in an American court.
Racheli Frankel wrote in her complaint, "I get nightmares just from thinking about how scared Naftali must have been when he realized he had been kidnapped, and how he must have felt, and what he must have thought, at the moment he was shot. It's so hard for me to think about how Naftali's friends are living and experiencing life when I know Naftali will never experience those things."
In addition to Racheli's testimony, newly revealed documentation will be presented to the federal court proving Iran and Syria directly funded the youths' kidnap and murder.
Two intelligence agents will also testify against Iran and Syria in Washington. One is an IDF intelligence agent, and the other is a former CIA agent.
The terrorist cell which carried out the attack against Frankel, Sha'ar and Yifrah received 220,000 NIS, which was transferred through the Gaza "charity" organization of A-nur.