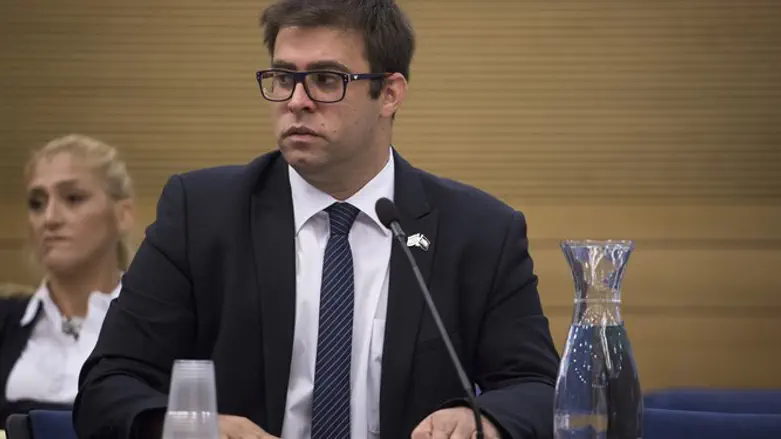 Oren Hazan
Hadas Parush/Flash 90
Mk Oren Hazan wrote an angry letter on Wednesday to Yuli Edelstein (Likud), protesting of the Speaker of Knesset's behavior at the funeral of Israel's former president Shimon Peres.
Oren Hazan said that Edelstein should have condemned the Arab members of Knesset who boycotted Peres' funeral. Hazan wrote,"Their absence from this historical event for the state is a black mark on the Knesset and, specifically, on the Speaker of the Knesset who is responsible for them," and stated that, "even if I couldn't force them to attend, I would expect that they would at least be reprimanded," Hazan wrote.
According to Hazan, the only leader who spoke at the funeral and mentioned members of Knesset was President Obama, who opened by mentioning the Knesset members in attendance. "You are the Knesset Speaker who was chosen by us and you chose to ignore our presence," Hazan stated.
MK Hazan also mentioned the fact that leader of the Opposition Yitzchak Herzog (Zionist Union) was not on the list of those who delivered speeches at the funeral. "It was your responsibility to make sure that the Opposition was represented in a ceremony which united the nation at a difficult time," Hazan wrote.
Hazan also pointed out another failure of Edelstein's saying that he should have made sure the members of Knesset in attendance sat in a respectable place that is worthy of the nation's representatives.
Hazan explained that, "I will emphasize that since I began my time in Knesset I have always put an emphasis on respecting Israel, its founders and its symbols. That is despite the disrespect shown by some of our people."
Hazan says that under Edelstein's leadership, "the status of members of Knesset has been compromised, along with the respect due to the Knesset." Hazan wrote that, "it doesn't matter how many millions you pour on campaigns, advertising and communications on the status of the Knesset, when you are the one who is harming the status of Knesset members."
"How do you expect the public to respect its elected officials when you stand at its head and you do the opposite?"
Hazan concluded his letter by saying that he awaits an apology from Edelstein.