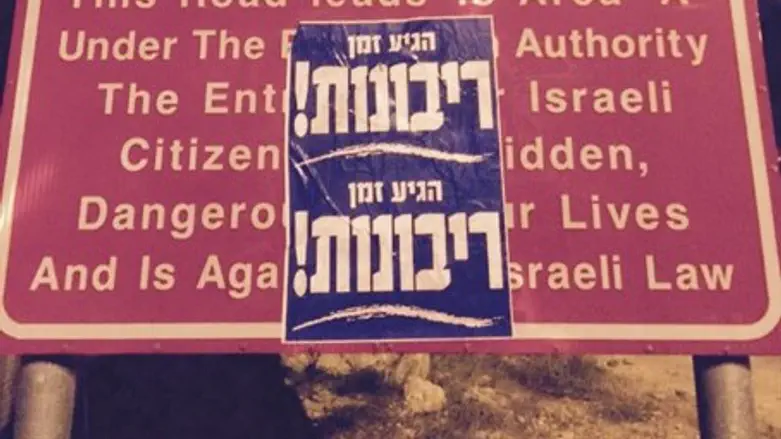 "The time has come for sovereignty" on Area A signs
Women in Green
In response to heated Cabinet discussions on negotiations with the Palestinian Authority (PA) on an IDF withdrawal from Area A in Judea and Samaria, Women in Green activists went out on Thursday night to make a statement.
The activists hung signs calling for the application of Israeli sovereignty on the red warning signs at the entrance to Area A, a series of regions classified by the 1994 Oslo Accord as being under full PA security and administrative control. The IDF was forced to reenter the regions due to the rampant terrorism of the 2000 Oslo War or Second Intifada.
Yehudit Katsover and Nadia Matar, the leaders of Women in Green, spoke about the reason for their night-time mission.
"During these days, immediately before the holiday of Freedom, when there is more and more talk of the IDF no longer entering Area A, it is precisely now the correct time to apply sovereignty over the Land of Israel," they said.
"If the IDF does not enter Area A it means a surrender of the area against the will of the people," they said, adding, "Ministers (Ze'ev) Elkin and (Naftali) Bennett did well in preventing, for now, this terrible decision."
Warning against a withdrawal, they said, "we must be extra aware of the danger that the territory will be usurped. This is why Women in Green activists hung signs calling for sovereignty on Route 60 (from Shechem in northern Samaria to southern Har Hevron in southern Judea) and on the red signs at the entry to Area A, signs cautioning Jews against entry into these areas."
"These signs are an outrage. Unfortunately, we did not fight when they placed these signs at the time and now there is talk about the IDF retreating from Area A. These red signs must be taken down immediately and we must apply sovereignty."
"The time has come for sovereignty" Women in Green