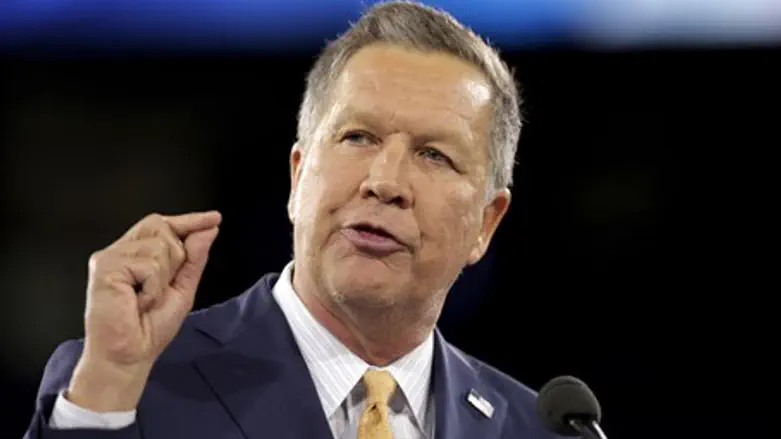 John Kasich
Reuters
The United States should not interfere in the Israeli-Palestinian Authority (PA) peace efforts unless both sides invite it to participate, Republican presidential candidate John Kasich told Haaretz in an interview on Thursday. 
"I don't think that's our job," Kasich said. "[PA chairman Mahmoud] Abbas is 80 years old. [Israeli Prime Minister Binyamin] Netanyahu is trying to figure out what he wants to do in light of the constant violence. They have to figure out when the time is right. And then if the time is right and they ask us to be a mediator, we're there. But I'm not going over there trying to pressure people to the table because it'll fail." 
Kasich, who spoke to Haaretz following a televised Town Hall event at the historic Milleridge Cottage in Jericho, New York, confirmed his support for Israel and elaborated on points he made last month in a speech to AIPAC, including comments about supplying Israel with military equipment.
"I think they ought to have military superiority in every way," Kasich told the newspaper. "Whatever they need. Aircraft. More opportunity to intercept, whatever it is." 
Kasich, who served on the House Armed Services committee during his 18 years in Congress, also allowed that the "U.S. could learn a lot" from Israel in terms of security, calling Israel's intelligence community "second to none."
"They also know how to prevent as best as they can," he said. "I mean, yes, we can learn a lot from them for sure."
Kasich also reiterated his disdain for President Barack Obama's controversial deal with Iran to curb that country's nuclear development but dismissed the vows of his Republican opponents, Donald Trump and Ted Cruz, to "tear it up on Day One." 
"I'm for suspending it now," Kasich told Haaretz. "The reason is we don't know what's going to happen. Do we just want to do this alone or would we rather have a bunch of countries that would put sanctions on once they violate the deal? Or should we just do it alone and lose everybody? I think there's more power in acting in a group than there is in us just acting individually and most of this is nothing more than just campaign rhetoric and pandering."
Asked if he fundamentally supports a diplomatic effort to address Iran's nuclear program, he replied that a deal would not have happened under his watch. "I would never have done this because I don't think there were any grounds on which to move forward." 
Kasich referred to the anti-Israel Boycott, Divestment and Sanctions (BDS) movement "has to stop."
"That is nonsense, that is hate speech and it cannot be tolerated," he told Haaretz. "I'd call people out on it. I'd call the leaders of the universities out on it. It's garbage."
Kasich's comments on the Israeli-PA conflict reflect the different approaches that the different presidential candidates have taken on this issue.
Trump has in the past hinted he would be "neutral" on the Israel-PA conflict if elected president, while Cruz indicated he would not be neutral and would be on Israel's side.
Democratic frontrunner Hillary Clinton, for her part, called out both Trump and Cruz, saying they both "missed the mark."
"Israel is our partner, our ally", Clinton stressed, but added that she would push for the two-state solution if she is elected president.
(Arutz Sheva's North American desk is keeping you updated until the start of Shabbat in New York. The time posted automatically on all Arutz Sheva articles, however, is Israeli time.)