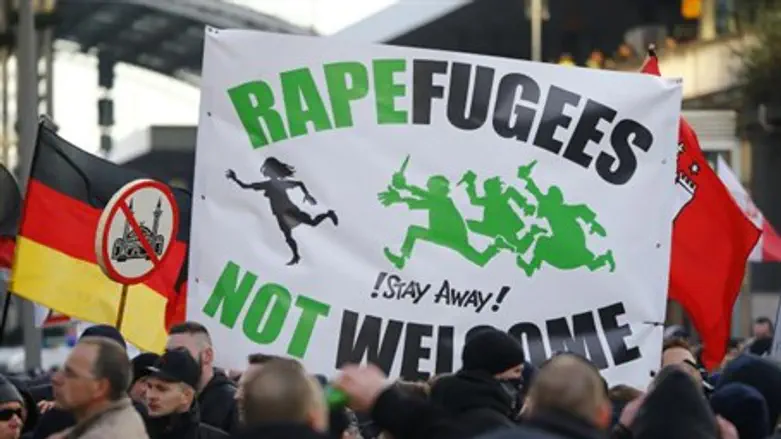 Anti-immigrant protest in Cologne (file)
Reuters
Juergen Mathies, chief of police in the German city of Cologne which was an epicenter of massive sexual assaults perpetrated by Muslim migrants in Europe on New Year's Eve, admitted Wednesday that most of the sexual assailants will never be caught.
"The CCTV footage is not good enough to clearly identify sexual assaults. We can see some thefts but that's all. We are relying on witness accounts and victims identifying their attackers," Mathies told BBC.
Sexual assaults were recorded in Sweden and Paris on New Year's Eve as well. In Cologne, around 1,000 Muslim migrants mobbed the city's main station, surrounding and attacking German women.
Over 500 complaints were submitted to the police, including crimes such as robbery and sexual assault, but only 75 suspects have been identified so far. Most of them hail from North Africa, thereby ruling out the "Syrian war refugee" claim that is often employed to defend the massive recent surge in migration.
Thirteen men have been arrested for theft in the New Year's Eve assault, but only one 26-year-old from Algeria has been arrested on suspicions of committing sexual assault.
Imam Sami Abu-Yusuf of the Al Tawheed mosque in Cologne last month defended the sexual assailants, blaming the victims for "wearing perfume."
A report after the attacks found the Cologne police were guilty of "serious mistakes" in not bringing in back-up, as well as over the manner in which they informed the public of the incidents. The German government originally covered up the attacks for days by not acknowledging they were perpetrated by Muslim migrants.
As a result Mathies' predecessor Wolfgan Albers was fired, and the government's immigration policy has been strongly condemned for allowing in migrants without thoroughly weeding out jihadists and sexual predators.
Roughly 1.1 million asylum seekers entered Germany in 2015; late last month Germany admitted that it had lost track of around 600,000 of them.