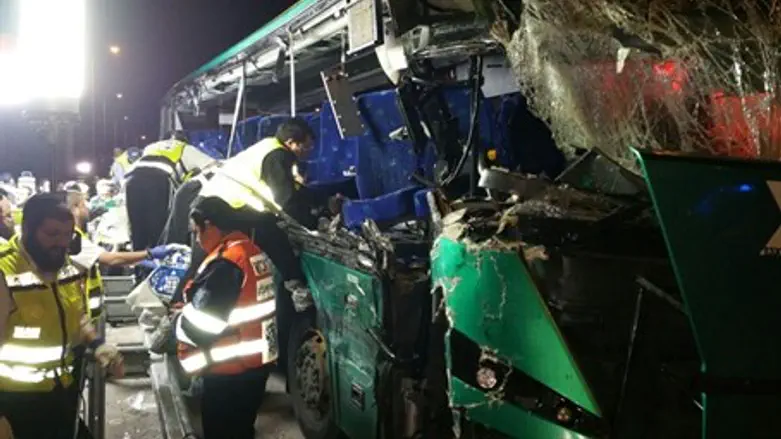 Lethal bus crash near Modi'in
Hezki Ezra
Following a large-scale crash on Highway 1 which killed six people, the bus driver was arrested early Monday morning after being taken in for questioning on suspicion of causing death by negligence.
The initial investigation revealed that the bus driver had been involved in a similar accident that occurred a few years ago while driving the same route, 402, in the opposite direction from Bnei Brak towards Jerusalem. In the accident he collided with a truck near the Shoresh interchange causing several injuries.
Following that accident, the Egged bus company decided the driver would not travel on intercity routes and was assigned to local routes only. However, a few weeks ago, the driver resumed to travel on the Jerusalem-Tel Aviv highway.
The police investigation also revealed that the truck driver had to stop on the side of the road due to an oil leak. Shortly after he stopped in the shoulder, the bus traveling from Jerusalem veered off its lane and crashed into the right side of the truck.
The identities of four of the six victims have been cleared for publication: 27-year-old Ya'akov Meir Heshin, 26-year-old Yisrael Weinberg, 23-year-old Chaya Pasha Frenkel, and 17-year-old Levy Yitzhak Amdadi.