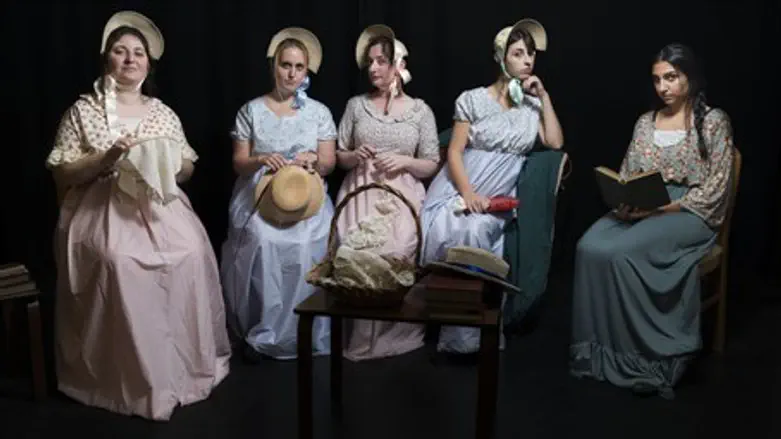 Some of the cast of Pride and Prejudice at AACI's J-Town Playhouse
Ita Arbit
Following two months of constant terror attacks, English-speaking immigrants around the country are helping Israelis relieve tensions and stress, with a myriad of theater productions being presented ranging from intimate improv comedy shows to full-on Broadway musicals.
Actor and producer Grant Crankshaw runs a theater called Desert Rose Productions that is set to perform a light hearted musical comedy entitled Ze Broadway Buba. In the show Crankshaw portrays an English director who comes from abroad to find a new Diva worthy of broadway. He auditions numerous actresses who sing, dance and speak in both English and Hebrew. In the musical, Crankshaw is teamed up with an Israeli director, played by Debbie Gold Hadar, who helps translate his English so that the Israeli starlet hopefuls will be able to understand.
The performance is filled with famous broadway songs that the audience is sure to enjoy, sung by six very talented actresses who portray characters from the spectrum of Israeli society. Throughout the show, the actresses bicker about, backstab because of, and eventually work out some of the issues that affect them and the larger Israeli society as a whole.
The show is performed in a mixture of Hebrew and English to appeal to audiences from both Israeli and an immigrant background. "We are trying to appeal to the widest possible audience," Crankshaw said in an interview with Arutz Sheva. "Among other issues discussed in the show, we explore the Religious-Secular divide that is unique to Israel. In the end the characters discover that they can treat each other with professionalism and respect one another, regardless of background and affiliation. It is a message for all of us."
When asked why the theater decided to perform this show now, during a time of daily terror attacks,  Crankshaw responded by saying that "shows like this take people's mind off the news. People can come and enjoy the music, dancing and humour on stage and reconnect with some of the better aspects of life. We remind people that life is also fun, in addition to being stressful. This is our way of contributing to Israel and keep everyone calm and restore their optimism. "
Ze Broadway Buba is directed by Daniella Roman, Crankshaw's wife and in the words of Crankshaw, "is a whole family affair." Crankshaw and Roman's son Jared runs the technical side of the show, while Roman's mother is in charge of selling tickets. After all, what is more Israeli than Mishpucha.
Other English speaking theaters are embracing similar tactics and performing light hearted or classical shows to help alleviate the pressure that people all across Israel are feeling. With six English speaking theaters in Jerusalem, and another eight spread across the country, hardly a day goes by without an English theater production occurring somewhere in Israel.
Chagit Moriah Gibor, who is one of the head organizers of the Social Issues Committee of the Jewish Home Party, as well as a member of the women's committee for the party, is currently acting in an English language production put on by mostly new immigrants with some born Israelis as well. She is performing in Pride and Prejudice which is being put on at AACI's J-Town Playhouse beginning December third and running throughout the month of December.
When asked by Arutz Sheva why she chose to participate in this English language production, she said that "I loved the idea of being able to participate in a classic play. Theater helps bring some peace of mind and some time away from the terror to the city of Jerusalem and the surrounding area. I believe that the performing arts certainly help people deal with some of the tensions that can come from the security situation."
Gibor is not new to the scene either. She recalled her previous experience of performing with immigrants during the second intifada some fifteen years ago. "I participated in a musical with Raise Your Spirits in Gush Etzion. It was also a time when there were daily attacks and when the stress levels were incredibly high. I found the act of performing to be very therapeutic, for both myself and the audience. It was my refuge during the constant terror. And now fifteen years later, I am again performing during a time of national crisis."
Gibor, an Israeli mother of three, is very appreciative of the interaction with the immigrants and in the change of mentality that performing with English speaking immigrants can bring. "There is something that is very warm and comforting about being in a group of people who feel free to express their feelings whatever they may be. That is something that is often hard to find within Israeli society. Israelis tend to be a bit more tight lipped and rough in terms of their behaviour. The theater is a place where people are allowed to let their feelings out, and that helps immensely," she said.  
But will the show will interest Israelis, even though it is presented in English? Gibor is confident it will. "Pride and Prejudice is a classic and circumvents language barriers. I am also an English teacher by trade and I often teach my students plays in English. They always enjoy the experience.
"I believe that Israeli audiences will also enjoy the experience of going to see a play in English, Perhaps even more than seeing one in Hebrew. This play is a classic that almost everyone enjoys, and it is even a good way to improve one's English" she said.
Last week the English speaking Improv theater troupe First City Improv hosted Israeli Improv team Lamabati in what is hopefully the first of many such partnerships. The show was a success and the audience loved the performance. Adi Singer, one of the Israeli performers who performed with Lamabati, told Arutz Sheva about her experience.
"When I arrived to improvise with the wonderful First City Improv group, I encountered a breath of positive spirit. We were guests at their home, and they made us feel so comfortable from the very first moment. I also felt that we were very much in tune and synchronized, improvising together."
She also expressed how inspiring it was to work together with this group of Immigrants. "I'm constantly amazed by olims' strength and determination, and feel empowered and stronger every time I get to spend time with them." 
Other productions that are taking place in the coming weeks include The Sound of Music which is being performed by Beit Hillel Theater Workshop over Chanukah, and the Gilbert and Sullivan classic Iolanthe which is being performed by Encore! and opens on December 30th and continues until January 7th. Both of those shows take place in Jerusalem and will be presented in English.