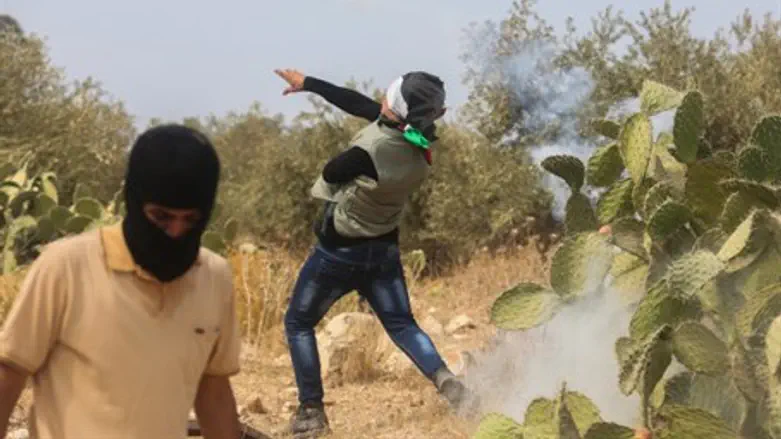 Rock-throwing Arabs (file)
STR/Flash90
A 16-month-old baby was wounded on Tuesday night after Arab terrorists threw rocks at a car on Highway 60 near Ma'ale Levona in Samaria. 
The child was lightly wounded. Both her and her mother, 32, were brought a local hospital for treatment, though both are stable and fully conscious. 
The Honenu legal rights organization reported later on Tuesday that the father of the baby wounded in the attack was arrested by an IDF battalion commander in the area. 
The father allegedly chased after the Arabs who threw rocks at his car, endangering his family. 
In another terror incident on Tuesday, Palestinians Arabs threw firebombs at IDF forces near Eli in the Binyamin region of Samaria.
No wounds were reported in the firebomb incident.
Such incidents of roadside terror in which Arab rioters hurl rocks at Jewish motorists have become a ubiquitous phenomenon in Israel. 
On Rosh Hashana eve, Jerusalem resident Alexander Levlovitz, 64, was murdered in an attack by Arab terrorists in the Armon HaNatziv neighborhood of the capital. 
The terrorists threw a rock at his vehicle, which slammed through the car's window and made Levlovitz lose control and crash.
Two-year-old Adele Biton was hit in the head by a rock in a similar attack on the neighborhood in November 2013. 
She suffered severe neurological damage at the time of the attack and passed away 15 months later in February 2015 after her condition deteriorated rapidly from a bout of pneumonia.