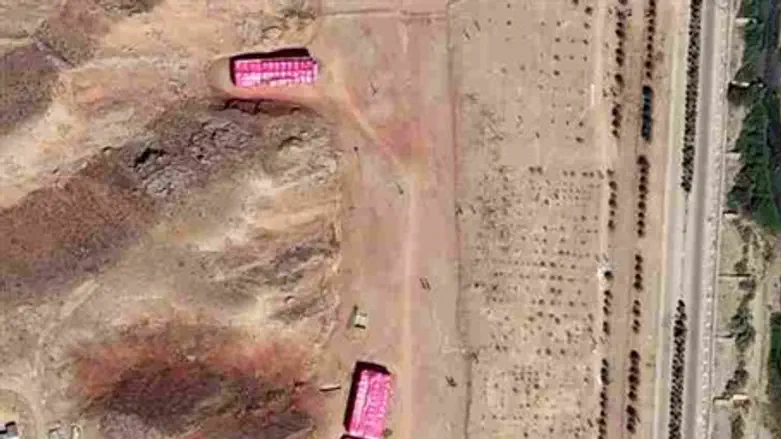 Parchin military base
Reuters
Israeli diplomats have responded with shock to secret details of the Iran deal revealed in the Senate hearing of US Secretary of State John Kerry on Thursday, in which classified sections of the deal not originally released were unearthed.
One particularly troubling detail that was divulged is that the covert military base Parchin, which Iran has admitted to using to test exploding bridge wire nuclear detonators, will be off limits to international inspectors, exactly as Iran has threatened. Instead Iran will take its own samples from Parchin and do its own testing of the covert site.
Kerry responded in the hearing by saying the agreements on Parchin are part of the classified section of the deal, and that he trusts the IAEA (International Atomic Energy Agency) when it says it is satisfied with them; ironically, the IAEA has in numerous reports warned that Iran is conducting nuclear weapons testing at the site, and requested numerous times to inspect the site - requests that Iran rejected.
Responding to the revelation, a senior Israeli diplomatic source was cited by Yedioth Aharonoth saying, "not only did the Iranians receive a warning time of 24 days (before inspection) to clean things up, apparently they don't even need to worry because they're the ones collecting the samples."
"That means it just allows the Iranians to fabricate the samples and there is no chance that breaches (of the deal) will be found. It means there won't be real inspection."
A senior minister of the Israeli government who is also a member of the Security Cabinet was likewise quoted on condition of anonymity in the report responding to the self-testing issue.
"In this deal and its annexes there are lots of astonishing things, like the fact that Iran is the one to collect the samples from nuclear sites, and that the world powers obligated to help Iran prevent sabotage at nuclear facilities," said the minister.
He added, "each day it becomes clear how awful this deal is. This deal is full of holes. Everyone understands that they (the Iranians) tricked them. The more we go deeper into deals and annexes we discover that the Americans and the international community crossed many red lines."
Heightening the concern over Parchin, satellite photos have shown Iran has been modifying the site, possibly expanding the nuclear tests and covering up their existence. Given that international inspectors will not be allowed in the site, Iran would apparently be allowed to ramp up its covert nuclear weapons program unfettered.
Reports tied the Parchin base to Iran's nuclear program following a mysterious explosion at the site last October.
IAEA reports in November 2011 pointed to nuclear weapons development previously conducted at the site, and a 2012 IAEA report likewise confirmed explosives containment vessels were at the site and likely used to test nuclear detonators.