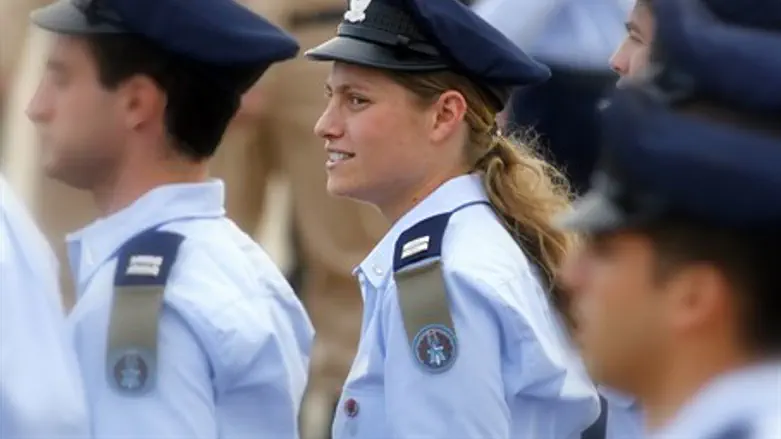 Tamar Ariel z''l
Flash 90
First Lieutenant R. is the second female religious combat navigator in the history of the Israeli Air Force (IAF), and in a special interview with Walla! published Thursday she spoke of Lt. Tamar Ariel, her pioneering predecessor who was tragically killed last October in a lethal Nepalese avalanche.
R., whose name was kept secret for her safety, is a 22-year-old native of Jerusalem's northern neighborhood Pisgat Ze'ev. She was close with Ariel, and recalled that "it was really fun to talk with her. Always as equals. Until the awful incident eight months ago."
Going back in time to the day of the avalanche, the navigator recalled that it was Shabbat, and as a religious Jew who does not use electronic devices on the Sabbath she was unaware of what had happened.
Reenacting the events after Shabbat ended, she recalled, "I turn on my phone and I see countless calls and messages that weren't answered. My mom called me right away and told me: 'there was an avalanche in Nepal and Tamar was killed.'"
"I couldn't digest it. It took time to internalize it," said R. "She was a good friend."
When asked about how she has adjusted to life in the IAF as a religious woman, R. explained, "I have principles that are very important to me. Red lines that I will not cross and don't compromise on."
"There's constant contact with boys 24/7. It's a conflict that turned out not to be a conflict," she said. "I was happily surprised by the inclusion of the guys in the course. They were always really careful and didn't talk near me about things you don't talk about near girls."
According to the navigator, her greatest challenges were in being exposed to things that were new to her because she had been raised in a protected environment.
Despite having signed on for long-term professional military service, R. is not concerned that doing so will conflict with her hopes to marry and start a family.
"I'm not the first girl to finish a flight course. There are married women with children in their (military) service. I think that if I didn't know that it was possible (to balance being a navigator with marriage - ed.) I wouldn't have started at all," she said. "If I'd known that until age 30 plus I can just forget about family and children, I wouldn't have enlisted in the airforce. I know that it's possible."
She acknowledged that "it could be that if I hadn't enlisted in the course I could have established a family with children earlier. But my family isn't pressing me. They understand and know that everything comes in its time, and I'm now starting operational training. Really I'm not concerned, it'll happen."