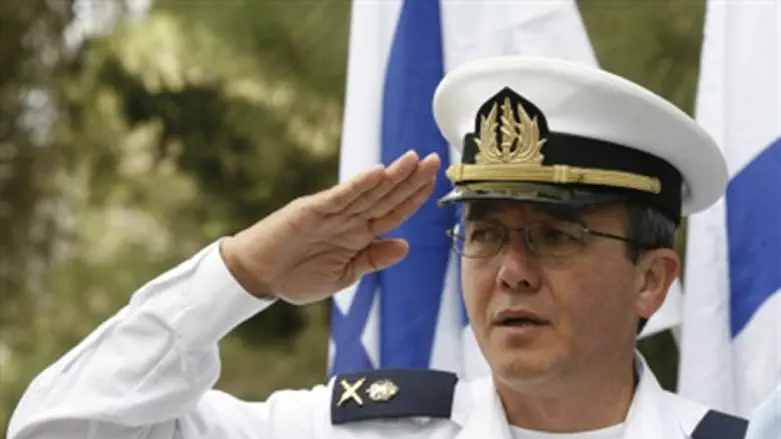 Maj. Gen. (res.) Eliezer Marom
Israel news photo: Flash 90
Former navy commander, Major General (res.) Eliezer Marom, has rejected claims that Israel should give up and allow this year's anti-Israel flotilla ('Freedom Flotilla III') to reach the Gaza coast on Sunday, noting that a lack of a response will lead to worse problems. 
Israel's response to the flotilla has been relatively muted, Marom noted to Channel 2 - despite international media coverage that implies otherwise. 
If Israel backs down from opposing the flotilla due to international pressure, he said, the significance of such a concession would be that all ships would be allow to flood to Gaza without Israel's consent or security supervision - under the principle of all ships having equality before the [international] law. 
"Iranian ships will enter Gaza in the near future" in such a case, he said. 
According to Marom, even small concessions will lead to open terror activity along the Gaza coast; while this activity is more or less the status quo, [e.g. the "maritime intifada" Gaza boats have launched against the Israeli navy, or arms smuggling - ed.] open sanction of the practice will see terrorism gain more ground. 
"If we give up on inspections at checkpoints and preventing terror attacks ... we will gain the sympathy of the world but citizens will die here," he urged. "We must not give up. We should act according to policy and international law."
Marom encouraged officials to "remember who we're dealing with: Hamas, a terror organization" - and added that, apparently, officials forget Hamas's status from time to time. 
The flotilla has been dubbed "Freedom Flotilla 3," a maritime challenge to Israel's legal naval blockade on the coastal enclave of Gaza which is controlled by the Hamas terrorist organization.
It has been backed by the European Campaign to Break the Siege on Gaza. Members of the European Parliament, journalists, athletes, artists, as well as radical leftist Israelis will be on board. 
Arutz Sheva exclusively revealed Thursday that the flotilla is indirectly funded by the French government via a pro-Palestinian NGO.