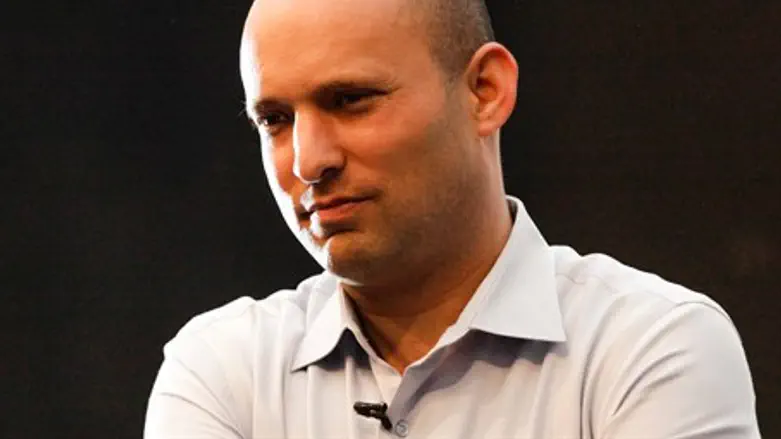 Naftali Bennett
Flash 90
Education Minister Naftali Bennett is demanding the Culture Basket's Theater Repertoire Committee convene an urgent meeting to discuss the continued run of controversial play "A Parallel Time."
The play, running for over a year at Haifa's Al-Midan Theater, is based on the life story of Palestinian terrorist Walid Daka who took part in the kidnapping, mutilation and murder of 19-year-old IDF soldier Moshe Tamam in 1984. 
Daka made headlines in 1999 when he became the first Palestinian incarcerated in an Israeli prison to be married while behind bars; "A Parallel Time" focuses most centrally on a Palestinian prisoner's wedding.
Following complaints from Tamam's family, the Haifa municipality suspended its annual funding to the Al Midan Theater and launched a probe into the content of the play in the case of further action. 
"I have instructed the Education Ministry's director-general to convene the committee and hold a debate on "A Parallel Time," Bennett stated on Monday, representing the first instance of national governmental involvement. 
This is "due to the fact that when it was approved for production, it was not made clear that this is based on a story of a terrorist, a murderer who is serving a life sentence for his role in the torture and murder of the late Moshe Tamam."
"I believe in the committee's professionalism and freedom of expression, but there are some things that are forbidden for us to accept," the Education Minister added. 
The play was approved for production by the committee in April 2014, and since its introduction into the national cultural basket, an Education Ministry project aimed at bringing arts and culture to young Israelis, it has been seen by over 900 11th and 12th graders.