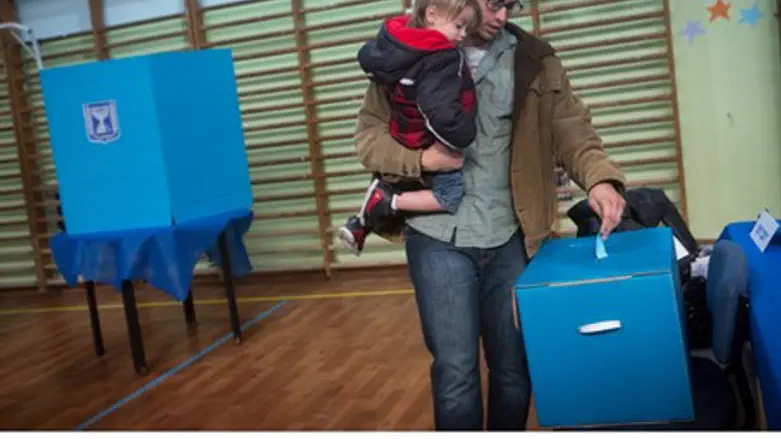 Voting in Jerusalem
Miriam Alster/Flash90
65.7% of  some 5.8 million eligible Israeli voters have voted as of 8 p.m., according to the latest statistics, as the race to enter the 20th Knesset heats up and only a short amount of time remains before the 10 p.m. cutoff.
That represents a slight increase compared with the same time during the 2013 elections (63.9%), after there was a slowing pace of votes that followed after a whopping 13.7% of eligible votes were cast as of 10 a.m. - significantly higher than the 11.4% registered at the same time in 2013.
Political experts are predicting that the final count will be a very tight race between Binyamin Netanyahu's Likud and the joint list of Yitzhak Herzog's Labor and Tzipi Livni's Hatnua, as the gap between the two parties appears to be very tight.
A close result supposedly works in favor of Netanyahu, assuming that he has a larger bloc of potential supporters and more chances of assembling a coalition. On the other hand, if Labor leads Likud by a sizable number, some parties less likely to support Labor may be induced to join his coalition.
Thousands of votes have already been submitted to the Central Elections Committee (CEC) offices - the votes of IDF soldiers, who have had the privilege to vote since Saturday night. 
Meanwhile, the vast majority of the 6,300 eligible voters in Israeli embassies abroad, including diplomats and their families, representatives of the Jewish Agency and other workers, have voted so far in the 20th Knesset elections as well, according to Walla! News.
That, despite the bad weather on the East Coast in the United States.
Arutz Sheva will be holding a live broadcasting this evening fromthe OU Israel Center in Jerusalem as the polls close, from 21:30 - 01:00 Israel-time, with all the latest election updates and analysis.