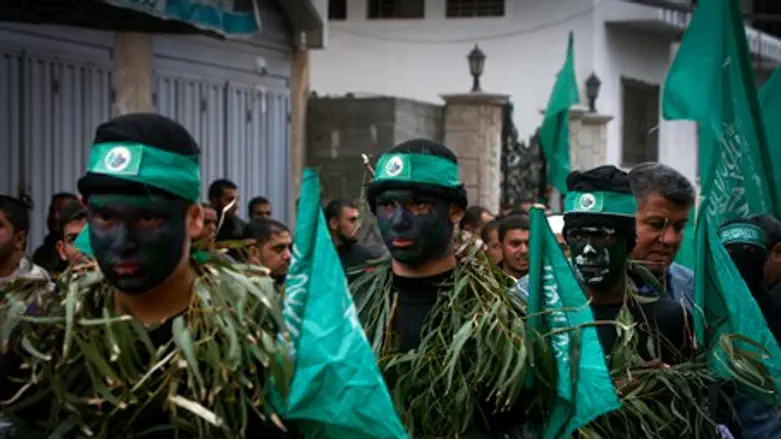 Hamas terrorists in Gaza parade
Abed Rahim Khatib/Flash 90
A court in Hamas-run Gaza on Monday handed a Palestinian Arab convicted of "spying" for Israel 15 years' hard labor, a judicial source said, according to an AFP report.
The 53-year-old man was found guilty of "providing the occupier personal names and the location of sites belonging to the resistance," said the source.
The defendant had been found to have "collaborated with the occupier since 1988" and had spent a year in the Jewish state.
Under Palestinian Arab law, those convicted of collaboration with Israel, murder and drug trafficking face the death penalty.
Since the start of the year, at least one person convicted of "collaboration" with Israel has been sentenced to death in the Palestinian-Authority assigned areas of Judea and Samaria.
Hamas, the Islamist movement that controls Gaza, executed 18 men in August for collaboration with Israel during their 50-day war, having executed two others in May last year on the same charge.
The move was blasted by the Palestinian Authority, which said that the executions had been conducted illegally outside of the Palestinian court system and could thus not be considered to have gone through fair process.
Under Palestinian law, collaboration with Israel is punishable by death. All death sentences, however, require Abbas's approval before being carried out, and Abbas issued a moratorium on death sentences in 2005.
Amnesty International has called on Hamas to stop the executions of suspected collaborators, saying that the group "must immediately and totally cease its use of the death penalty."