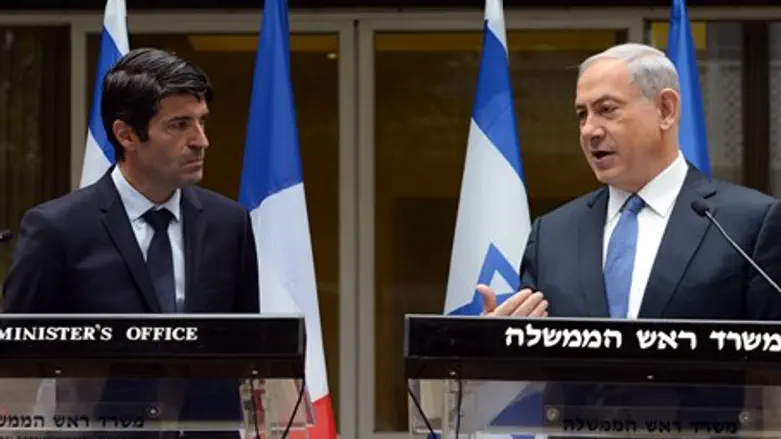 Binyamin Netanyahu, Patrick Maisonnave
Haim Zach/GPO/Flash 90
Prime Minister Binyamin Netanyahu on Friday afternoon met with French Ambassador to Israel Patrick Maisonnave following the Wednesday attack on satire magazine Charlie Hebdo's Paris headquarters, even as the two jihadist terrorists responsible holed up in a building creating a hostage situation.
The two terrorists, brothers Said and Cherif Kouachi, murdered 12 in the Paris attack, and on Friday took hostages in a business in Dammartin-en-Goele in the Seine et Marne, 25 miles (40 km) from Paris, several kilometers from Roissy airport.
Netanyahu, who sent his condolences to French President Francois Hollande on Thursday in a call for unity against terrorism, said "I wish to send from this place our deepest condolences to President Francois Hollande, the bereaved families and the people of France. We grieve with our French brothers and sisters. We reaffirm our commitment to work together to defeat the enemies of the democratic values we all cherish."
Speaking to Maisonnave, he said "I know that you're going from here to France, and I want you to take with you the sentiment of every citizen of Israel. We have experienced such attacks, we know the feeling, and we share your grief, but also your resolve, which has been demonstrated in the last few days by so many of France's citizens who gathered to say, we have to fight these enemies of our common civilization."
"These terrorists gun down journalists in Paris; they behead aid workers in Syria; they kidnap schoolgirls in Nigeria; they bomb churches in Iraq; they slaughter tourists in Bali; they rocket civilians from Gaza; and they strive to build nuclear weapons in Iran," said Netanyahu. "They might have different names: ISIS, Boko Haram, Hamas, Al-Shabab, Al-Qaeda, Hezbollah. But all of them are driven by the same hatred and blood-thirsty fanaticism. And all of them seek to destroy our freedoms and to impose on all of us a violent, medieval tyranny."
Netanyahu emphasized "this is a global struggle. Bringing to justice the Paris murderers is just the beginning. It must be followed by a broad based assault on the forces of radical Islam throughout the world. This is everybody's battle."
"The terrorists have shown that they have the will to crush us, but they don't have the capacity. Now we must show that we have the will to defeat them and crush them," he continued. "This is the essence of the battle that we're fighting: Freedom against barbarism. Freedom must win, but to win, we have to stand together and fight together."
"This is our message to the people of France, and this is our message to all the citizens of civilized countries," added Netanyahu.
The prime minister said "in order to fight them (the terrorists), we have to understand that they challenge everyone: They challenge their fellow Muslims who don't share their implacable creed, and then they challenge everyone else. Radical Islam is challenging the entire world - the Muslim world and the non-Muslim world alike, but it is radical Islam."
Remarking on the attack on the satire magazine Charlie Hebdo, he added "I know that there are many in France who are asking themselves, how can we fight this dreadful fear-imposing barbarism. Should we continue to publish our views? Should we express our opinions? Should we now cut back? And my message, in Paris, In Jerusalem, anywhere, is the first rule in fighting terrorism is to refuse to knuckle down and knuckle under fear and pain of fear, to refuse to be afraid."
"We have to unite to roll back this side of fear," added Netanyahu. "And I think that you can go from here to Paris armed with the knowledge that the people of Israel believe strongly in what I've just said, embrace the people of France as brothers and sisters. We understand we are in a common battle for our values and a common battle for our future, and we refuse to be intimidated"