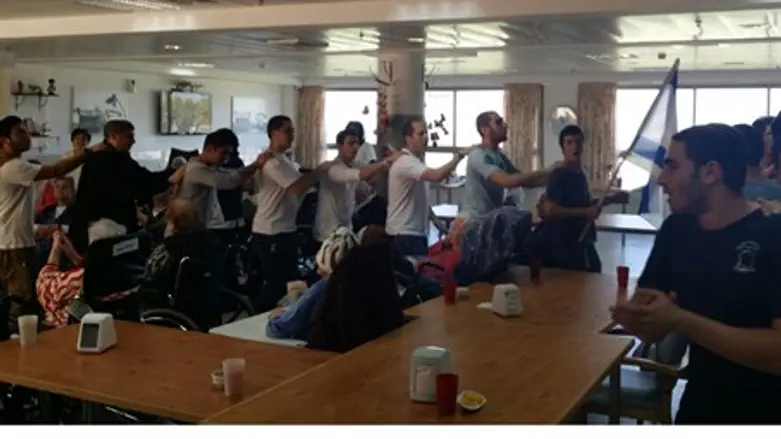 Cheering up the elderly
Courtesy of the Bnei Akiva Yeshiva Or Etzion
Eleventh- and twelfth-grade students of the Bnei Akiva Or Etzion Yeshiva made a special visit to cheer up the elderly and instill the holiday spirit of Hanukkah, at the senior residence home adjacent to the moshav Kfar Achim east of Ashdod.
"The meeting was moving and joyful, both for the elderly and for the stuents," said Rabbi Micah Klatzhandler, dean of the yeshiva that is located in the coastal region not far from Ashdod and Ashkelon.
The rabbi added "despite that Hanukkah is a holiday full of family activities and social meetings, our students didn't give up the opportunity and made time to volunteer to cheer up the elderly who really were moved by the experience and the bursting joy. They thanked the boys from the heart, and look forward to more meetings like this."
In the visit, the young students lit the Hanukkah candles and listened to the astonishing stories of the elderly residents at the facility.
Ron Omesi, one of the students, related "we lit the candles with someone who taught Gemara (a core text of Jewish law - ed.) for 60 years. We heard from him about clinging to the Torah."
Another student in the eleventh grade, Neriah Kohen, spoke about the elderly couple he lit candles with.
"We met a couple that immigrated to Israel. The husband fought in the (British army's Jewish) Brigade and then immigrated to Israel, where he met his wife who managed to escape to England before the Holocaust," said Kohen.
Another couple didn't escape the Holocaust; instead they survived it, and immigrated to Israel in the Aliyah Bet ships where they joined the struggle for the land of Israel, fighting for the Haganah - student Reuven Ben-Parash lit the Hanukkah candles with them.