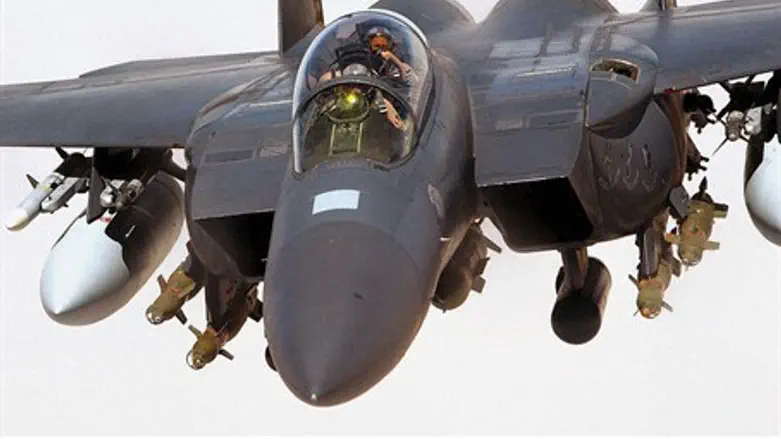 F-15E Strike Eagle
USAF Photo
American airstrikes against Islamic State (IS) targets are under way in Syria, according to a Pentagon official quoted by ABC News late Monday.
"I can confirm that U.S. military and partner nation forces are undertaking military action against [IS] terrorists in Syria using a mix of fighter, bomber and Tomahawk Land Attack Missiles," Pentagon Press Secretary Rear Admiral John Kirby was quoted as having said.
"Given that these operations are ongoing, we are not in a position to provide additional details at this time. The decision to conduct theses strikes was made earlier today by the U.S. Central Command commander under authorization granted him by the commander in chief," he added.
Several Arab nations are involved in the ongoing U.S.-led operation, a defense official said. A diplomatic source identified the nations as Jordan, Saudi Arabia, Bahrain, Qatar and the United Arab Emirates.
Another U.S. official said the Arab nations will be dropping bombs, not just providing support. Up to 20 locations have been targeted in the operation, many of the sites in Raqqa, the official said, according to ABC News.
In a national address on September 10, President Barack Obama said the first part of his strategy to counter IS was to "conduct a systematic campaign of airstrikes against these terrorists."
The Middle East has been galvanized since June when Islamic State fighters, already in control of much of Syria, swept through northern Iraq, seizing cities, slaughtering prisoners, and proclaiming a "caliphate" that would rule over all Muslims.
The White House says the group is a threat to the West as well, attracting fighters from around the world who could return to carry out attacks at home.
Secretary of State John Kerry has already received the backing of 10 Arab countries for what was described as a "coordinated military campaign" against IS and, on Sunday, Gen. Martin Dempsey, chairman of the Joint Chiefs of Staff, called for more Arab help in the campaign.
"We want them to wake up every day realizing that they are being squeezed from multiple directions," Dempsey told reporters.
"If we can get [IS] looking in about five different directions, that's the desired end state," he added.
Dempsey stressed the importance of gaining more Arab participation in the U.S.-led effort, suggesting that without it the military campaign might not move to its next phase.