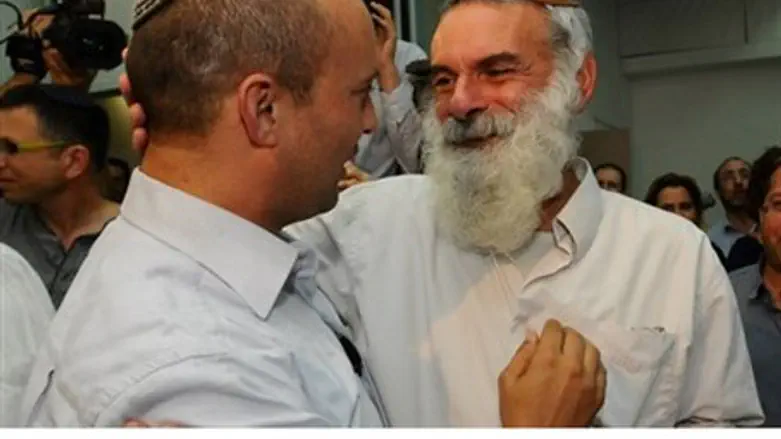 Naftali Bennett, Rabbi Ronsky
Flash 90
MK Miri Regev (Likud) said Wednesday after speaking on the telephone with Defense Minister Moshe Yaalon that the former chief military rabbi, Brig.-Gen. Rabbi Avichai Ronski (res.), was not dismissed from reserve service in the IDF.
"To my regret, I was also misled following the publications in the media about Ronski's dismissal," Regev wrote on Facebook. "I spoke with the defense minister ahead of my appearance on Channel 2's midnight edition together with Ayelet Shaked, and I learned that Ronski was not dismissed but rather disciplined for another matter."
Regev apologized to Ronski. "I judged him based upon the publications in the media and I was wrong. In my conversation with the defense minister I was told that Minister Bennett made use of the information he received from officers in the field regarding the tunnels and appropriated it for himself."
"In the course of a military operation, one must be doubly careful about everything having to do with information that is given by various sources and of course, one must safeguard the information and use it only in the closed meetings intended for this."
Regev added: "I hope that the defense establishment will publish an ordered statement of clarification, regarding the non-dismissal of Rabbi Ronski, in order to preserve his dignity."
Earlier Wednesday evening, Minister Bennett strenuously denied accusations by Yaalon that he had received information from Rabbi Ronski, who allegedly went to the combat zones in uniform although he had not been called up to reserve service.
"I don't know where this came from," he said on television. "It never happened. Yaalon is using the former chief military rabbi to attack me," he told Channel 2. "Rabbi Ronski has been in the army for 45 years. I think we spoke once during the war and Rabbi Ronski told me about the soldiers' morale. I really don't understand what happened to the defense minister."
Bennett insisted that he had received the information he made use of, in his frequent tours of the war zone. "From the start of Brothers' Keeper, and in the course of Protective Edge, I went to the field every two days and spoke with dozens of commanders, officers," he said.
Bennett said flat out that he was the one who initiated the operation against Hamas's terror tunnels, and that the prime minister and defense minister had not treated the tunnel threat seriously. "I do not think that there was intentional concealment here. There was a preconception that Hamas does not want to use the tunnels and therefore, when I pushed for the operation, someone blocked it."
"I definitely think that when I first floated the matter, it was treated dismissively, and were it not for going down into the field, the diplomatic echelon would not have been aware of it," Bennett said. "I will be glad to sort matters out so everyone can see who identified the threat and who dismissed it."
Rabbi Ronski told Arutz Sheva in a telephone call from Canada that he does not know of any decision against him bt Cief of Staff Lt. Gen. Benny Gantz. "I never gave him IDF materials," he said. "I do reserve duty, I did reserve duty after the operation as well, and I have reserve duty in Sukkot."